Shop for a new garage door
Excellent, very efficient and answered any questions so I fully understood the answer. Very pleasant operator.
The workmen were polite and quickly did the job, tidied up after them and took the old door away. Before they left they gave a demonstration of how the door operated.
I contacted Wessex Garage Doors following a referral by a neighbour. Their product knowledge, pricing and installation was first class. I am so pleased with my new electric garage doors!
We were very pleased with the efficient and friendly way our order was handled, the door arrived on time. We are very pleased with the appeared and working of the door.
Automated Garage Doors
Automatic garage doors are an excellent choice for all kinds of households, from those who lead busy lifestyles and usually have their hands full to people with limited mobility. Electric systems are not only more convenient than a conventional lock and manual mechanism, they are also safer. With no handles to force open and no need to leave your car in order to park it securely, you'll wonder why you didn't upgrade sooner. For more information about new electric doors or retrofitting an automation device to your current door, please get in touch.
Click the images below for more information about our most popular garage door styles and materials, or visit our manufacturers page to get details about the brands we supply. For any further enquiries, please give us a call and we will be happy to help.
Here at Wessex Garage Doors, we are expert in supplying, installing and repairing quality garage doors at an affordable price. Working with homes and businesses across Kent, from Tonbridge to Canterbury, we offer a wide range of products to help you find exactly what you need.
Our extensive selection includes wooden garage doors, sectional garage doors, roller doors, steel garage doors and up-and-over doors, available in a huge variety of colours and finishes to match or complement the style of your home. We offer hundreds of different styles in wood, Glass Reinforced Polyester (GRP) and steel, ensuring that your garage door offers the security, durability and visual appeal that you're looking for.
As part of our services, we also provide expert installation, professional repairs and a broad range of accessories and spare parts. Whether you're looking to get an existing door retrofitted with an automation device, need help correcting the opening mechanism or have decided to simply get a brand-new door, our qualified engineers are on standby, ready to assist you. Call us today for a free quote and to book an on-site visit.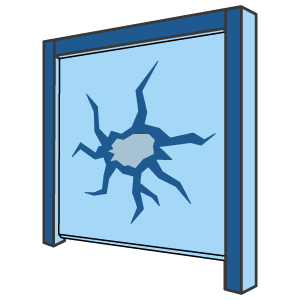 Garage Door Repairs
Our comprehensive garage door repair service takes care of all types of doors. Engineers can replace jammed locks, faulty automation systems and stiff or heavy mechanisms, ensuring that your garage is working safely and securely again as soon as possible. Call us or complete a contact form to let us know what the problem is and we'll be happy to help.
Garage Door Installations in Kent
Before & After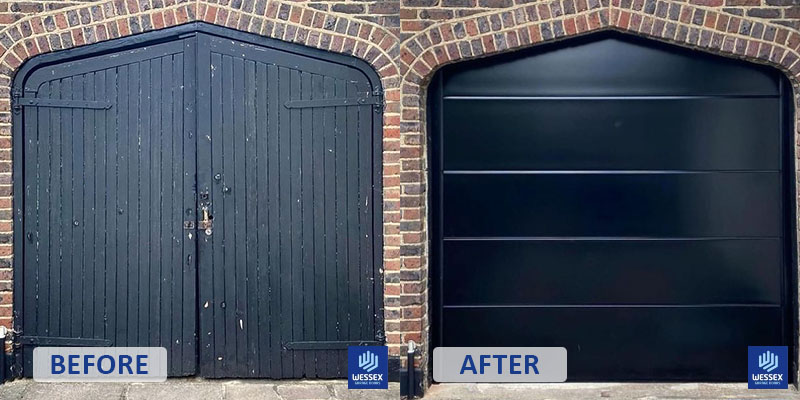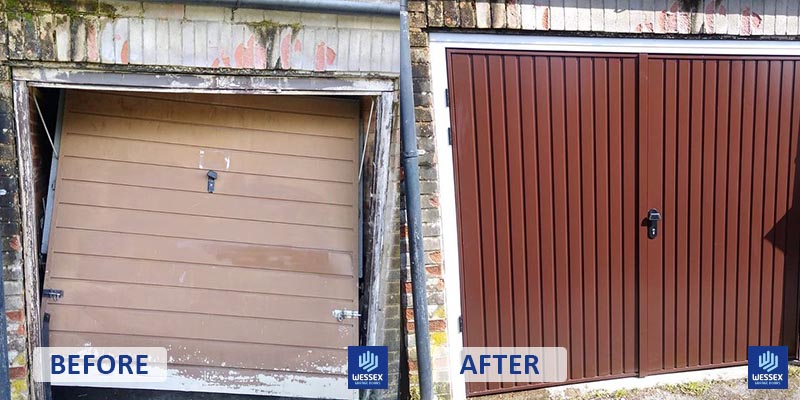 Follow Us On Instagram To See Our Recent Installations