Upgrade your home's kerb appeal and add character to your garage space with beautiful, low-maintenance wood effect garage doors made from durable GRP. Our doors capture the look and feel of natural wood with the unparalleled durability and longevity of glass reinforced plastic.
What is GRP?
GRP stands for glass-reinforced plastic. It's a high-tech composite material made by infusing fine strands of glass within a tough plastic resin. The glass boosts the impact resistance, while the resin provides colour, sheen and weatherproofing.
Realistic Wood Finishes
Our wood look garage doors are crafted to capture the elegance and beauty of natural wood types like oak, cherry, cedar and mahogany. High-definition plank detailing and textured woodgrain patterns replicate the look found in real wood for a finish that looks authentic and natural. Special finishes add realistic weathering effects, natural colour variations, wood knots and grains. You'll enjoy the visual warmth and character of real wood doors combined with the unmatched durability of GRP composite materials.
RAL Colour Garage Doors
There are plenty of colours to choose from too, to suit your personal taste or to match the style of your property. We can match your timber effect garage door to any RAL or BS (British Standard) colour of your choice.
Benefits of Wood Effect Garage Doors
While wooden doors are aesthetically pleasing, GRP does offer several advantages over natural wood. It won't warp, crack or rot from exposure to moisture and temperature fluctuations like real wood can if it's not well cared for.
Easy to maintain: The colour and wood grain patterns are infused throughout the thickness of the GRP material, which allows these doors to maintain their original appearance despite years of use and exposure to the elements.
Lightweight but durable: GRP is lightweight and easy to open and close yet has incredible impact resistance and durability. So, with the elegant look and feel of real wood, GRP provides essentially maintenance-free garage doors that will last for many years to come.
Environmentally friendly: The glass-reinforced plastic contains gentle compounds derived from naturally occurring materials, and often incorporates recycled fillers and fibres too. With no toxic chemicals or harmful by-products, GRP is an eco-conscious composite building material. Our manufacturing process aims to minimise waste and energy consumption as well.
Heightened security: GRP has an unmatched strength-to-weight ratio compared to natural wood. The rigid, impact-resistant GRP doors will stand up to attempts at forced entry or vandalism, protecting your garage contents from theft.
Recent Wood Effect Door Installations
High Quality Wood Effect Doors from Leading Brands
We partner with the top GRP garage door manufacturers to provide our customers with exceptional quality and service. Our team can help you select the ideal timber effect doors from leading brands like:
CDC – Known for durability and security, CDC offers a wide range of styles from traditional to contemporary.
Garador – With advanced engineering and designs, Garador is a top choice for customisable, insulated GRP garage doors.
Cardale – Cardale doors provide excellent thermal efficiency, noise reduction and a host of security features.
Hörmann – Industry leaders in innovation with natural looking wood effect finishes.
We carry a large inventory and can provide quick delivery across the UK. Contact our knowledgeable staff to review product brochures, get samples, pricing and more.
Below we have a selection of the doors available from our manufactures. For the full range, please contact us for a brochure.
CDC
The Corporate Door Company hand-makes all of their GRP doors to order, offering a wide variety of styles to complement the architectural features of your home. Click here to find out more.
GARADOR
Garador doors sit in a rigid box section chassis and provide a secure garage door that guarantees no twisting or warping. From brass effect or brushed steel handles to modern white handles, and a range of glazing options for windows, these doors are long-lasting and available in a range of different styles.
CARDALE
Cardale have over 50 years' experience in manufacturing GRP garage doors, specialising in lightweight, durable and beautiful garage doors for your home. Click here to find out more.
Choose the Perfect Style for Your Home
GRP wood effect garage doors come in a variety of styles to match your home's architecture and meet your functional needs. Our top-quality fibreglass doors are available in a range of popular styles.
In addition to the style, you can choose from a wide range of colours, wood grain finishes and windows. Automated opener systems can also be added to any style for convenience and security.
Countless Options for Customisation
Choose from our stock colour collection or use any RAL colour code to match your home's exterior palette. Window designs, frame colours and hardware finishes can also be customised to your desired look for a garage door that perfectly matches your home. Our doors are available in a range of standard and custom sizes to fit your garage opening too.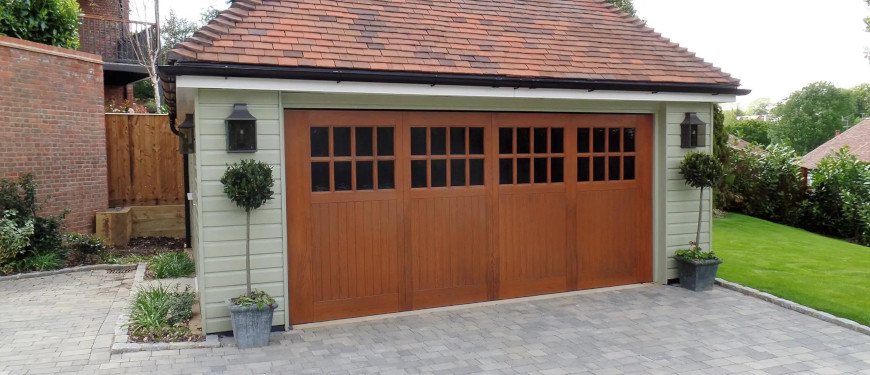 FAQs
What are the benefits of a wood effect GRP garage door?

Timber effect doors provide the authentic visual appeal of real wood but with the durability, weather-resistance and low maintenance of glass reinforced plastic. They're a great way of achieving a genuine wood look without the maintenance required for real wooden doors.

How realistic is the wood effect on GRP garage doors?

Wood effect doors use high definition prints that accurately replicate wood grain patterns and textures for a very realistic appearance.

Are wood effect garage doors expensive?

Wood effect doors are competitively priced. They provide a mid-range option that is less expensive than wood but more than basic steel doors.

Does a wood effect door require a lot of maintenance?

Wood effect GRP doors require very little maintenance since the glass reinforced plastic skin resists moisture, scratches and dents more effectively than real wood.
We Supply and Install Garage Doors at Market Leading Prices
Let our experienced design team help you create the perfect wood effect garage doors for your residential or commercial space. Contact us today to get a quote and learn more about the benefits of GRP for your own garage door.
Price Promise Guarantee
Free 12 Month Warranty On All Doors
100's Of Doors To Choose From
Book a free home survey
Areas we cover
Sussex, Surrey & Kent
NEW GARAGE DOORS
Sectional Garage Doors
Sectional garage doors offer the ultimate in practicality and as such can be fitted to almost any garage.
Up and Over Garage Doors
Our popular up & over garage doors are mounted on tracks that run across the ceiling of your garage
Steel Garage Doors
Steel garage doors combine the ultimate in durability and style, and are built by some of the leading manufacturers.
Roller Garage Doors
Mounted on tracks that run up the side of the door. As the door rolls up it is stored in a barrel-like compartment.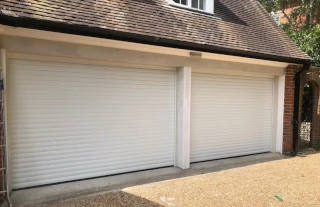 Automatic Garage Doors
We provide high-quality automated garage doors. Our expert team will work with your particular specifications to help find the perfect door for your property, whatever your budget may be.
Bespoke Garage Doors
Over the years, we've created bespoke products that fit the needs of numerous customers and we take pride in our ability to tailor our products for a custom service.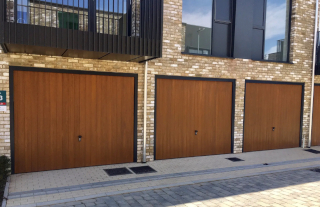 Wooden Garage Doors
We offer a wide range of wooden garage doors to truly transform your home. Whatever style of property you might have, we can provide the perfect timber door to give it an attractive and welcoming feel.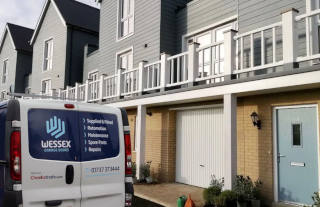 All Types of Garage Doors
Not sure what kind of garage door you want for your property? We can help! Contact us for further advice on all styles of garage doors and how to choose the right type for your property and budget.