NEW GARAGE DOORS
Excellent, very efficient and answered any questions so I fully understood the answer. Very pleasant operator.
The workmen were polite and quickly did the job, tidied up after them and took the old door away. Before they left they gave a demonstration of how the door operated.
I contacted Wessex Garage Doors following a referral by a neighbour. Their product knowledge, pricing and installation was first class. I am so pleased with my new electric garage doors!
We were very pleased with the efficient and friendly way our order was handled, the door arrived on time. We are very pleased with the appeared and working of the door.
Your Local Garage Door Installation & Repairs Service in Lingfield
At Wessex Garage Doors, we've worked with numerous clients across Lingfield, Sussex and surrounding areas, supplying a premium collection of garage doors.
Not only do we supply an extensive range of garage doors, but our team also provides an expert fitting service as well as garage maintenance and repairs. Working with manual and automatic installations at all kinds of property, our team use their extensive knowledge to provide an efficient, reliable service to every customer.
See our most popular garage door types below, including sectional garage doors, wooden garage doors and automated options. You can also see our manufacturers page for more details about the high-quality brands we supply, or contact us if you are looking for something specific.
Automated Garage Doors
Almost every door we supply can be fitted with an electric opening system, improving the convenience and security of your garage. Whether you have mobility issues, are worried about your personal safety when leaving your car or simply tend to have your hands full when using your garage, upgrading to an automatic system can help.
If you would like more information about installing a new electric garage door, or to arrange for our team to retrofit an electric opening mechanism to your existing door, get in touch.
Why Wessex Garage Doors?
Our team at Wessex Garage Doors supplies and installs high-quality garage doors across the South East, covering areas as far north as Lingfield and Redhill. As a family-run business that has been operating for over 30 years, we have extensive industry expertise and a commitment to delivering exceptional service, which, in addition to our excellent products, have contributed to us becoming one of the largest garage door specialists in the area.
We offer hundreds of styles of doors, including up-and-over designs, sectional doors and roller garage doors. These are available in steel, solid wood and GRP in a huge array of colours, making it possible to find a garage door to suit the style and functional requirements of any home.
As part of our specialist services, we also offer expert garage door repairs and professional garage door installation to clients in Lingfield. Please contact us for more information.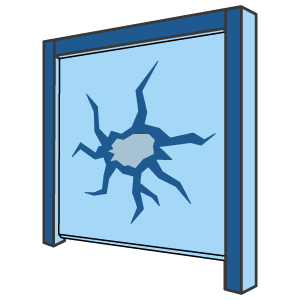 Garage Door Repairs
We routinely carry out garage door repairs in Lingfield and are happy to advise customers about the best way of maintaining their door to maximise its lifespan. This includes automatic and manual garage doors, locks, handles, tracks and structural damage. Mechanisms that become stiff or heavy can quickly become a safety risk and should be dealt with as soon as possible. Contact our responsive repair team to quickly get your garage door working as it should be.
See the options below for more information about our most popular styles of garage door or, if you have a specific question, call us on 01737 309103. We look forward to speaking with you.
Recent Reviews
Very helpful from quote stage to fitting. Our fitter was so professional and helpful. Thank You!
Was very happy with the service - prices were not unreasonable, Chris was flexible and helpful, and the door looks great.
Holly Donoghue
24/07/2023
Brilliant service. Stress free ordering process and top notch installation. Really happy, thank you!
Brilliant nice fitters really happy only one complaint drilled holes through metal frame work left it with holes no white plus to finish it off 😏
Great service from start to finish. Good quality door and good install. Highly recommend.
Christopher Burton
26/06/2023
I am delighted with the installation from initial enquiry right through to the fitting of the new doors. Excellent product and service.
Josef was very efficient friendly and knowledgeable and did a great job installing our new up & over door including the frame. He was very tidy and polite and a pleasure to deal with.
We called Wessex Garage Doors for the repair of an old roll over garage door. We are very satisfied with the speedy, professional and friendly service. Communication was very clear and friendly. Highly recommended! Thank you, WGDS team, we will definitely use your services again.
Job done promptly, to spec & at agreed price. Installers were polite & professional. No complaints!
FAQs
Are you able to dispose of my old garage doors?
If you would like our technicians to remove your old garage door and dispose of it safely, in preparation for a new garage door installation by Wessex Garage Doors, we will be more than happy to help. A small additional fee will be charged for this service. Simply let us know when placing your order.
How do I correctly measure the opening for a DIY garage door installation?
If you wish to install your own garage door, you need to measure the width and height of the structural opening, taking into account that there may be variations across the space. To get the most accurate measurements, take readings at the left, centre and right edge, then the top, middle and bottom of the aperture. Always use the smallest of the width and height measurements, so that your new door will fit snugly into the opening.
How often should I have my garage door serviced?
Assuming that your garage door is in regular daily use, it is highly recommended that you have it serviced at least once a year to ensure the door remains in top condition and avoid any issues from developing. At Wessex Garage Doors, we offer regular service package options as well as a bespoke service plan when you purchase your new door with us.
Garage Door Installations in Lingfield
Before & After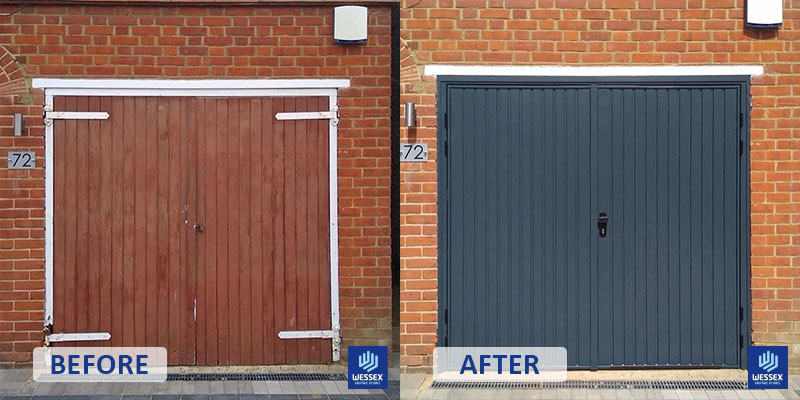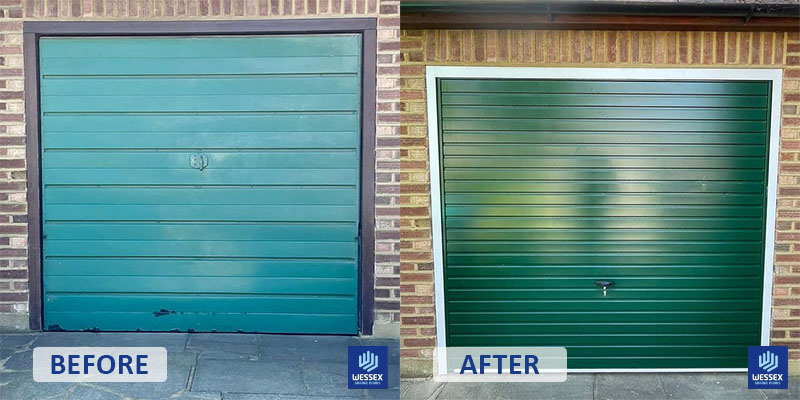 Follow Us On Instagram To See Our Recent Installations