Up and over garage doors are one of the most popular types of garage door design. Mounted on tracks that run across the ceiling of your garage, the door should effortlessly glide up and out of the way when you open it. However, even with premium garage doors, there may come a time when professional attention is required.

Reliable service that you can trust
Wessex Garage Doors are one of the most respected names for garage doors in the South East. Our reputation is founded on the superior quality of the doors we supply and install as well as our fast, reliable and efficient repair and maintenance service.
We repair all major brands including Garador, Hörmann, Cedar Door and Novoferm.
We can repair up and over garage doors in any material.
Repairing an existing door is typically more economical than a full door replacement.
Our Customer Charter ensures that all clients receive the same high quality service.
Our experienced team of garage door technicians are on hand to deal with virtually any operational issue, cosmetic damage or structural problem you may encounter. Why not contact us today to arrange for a home visit, so we can take a look, diagnose the problem and fix it as quickly as possible.
Why Use Wessex For Your Repairs & Accessories
We cover Surrey, Sussex and Kent
Fast response rate
Qualified engineers on standby
Metal, wood, fibreglass type garage doors attended to
All brands covered
Replacement parts available
Common issues requiring up and over garage door repairs
Got a problem with your garage door? The first thing to do is to take a close look at the garage door yourself and see if you can identify where the issue lies. Here are some of the problems we encounter with up and over garage doors on a regular basis, and some helpful suggestions for actions you can take yourself.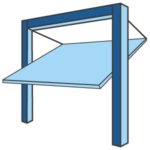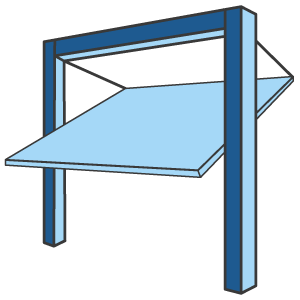 Door is stuck halfway
Modern up and over garage doors are precision engineered, meaning that even the smallest obstruction can negatively affect the operation of the door. If your garage door is jammed and won't move up or down, check for obvious blockages inside the tracks, and make sure nothing inside the garage is blocking the door.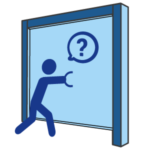 Door is hard to open or close
If your up and over garage door feels unusually stiff when you open or close it, there may be an issue with the tracks. Start by cleaning off any dirt or debris that might be obstructing the rollers and add lubrication so that the door glides again. However, if sections of the tracks are dented or warped, you will need to call out our repair technicians.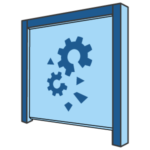 Door won't stay open
If the door keeps slipping, drooping or closing on you, the problem is likely to be with the torsion springs at the top of the frame and/or the extension springs at the sides. Once the tension goes, the weight of the door can no longer be supported properly. A qualified technician can easily adjust the springs but if you ignore the issue, the springs will eventually fail and need replacing.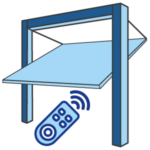 Malfunctioning automatic controls
Has your electric up and over garage door stopped responding to the remote control? The fault could be with the handset (check the batteries) or access code, or it could be with the power supply (check the fuse board) or the motor overheating due to continuous use. Call out one of our expert technicians to take a professional look at it.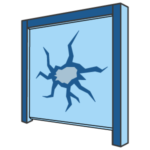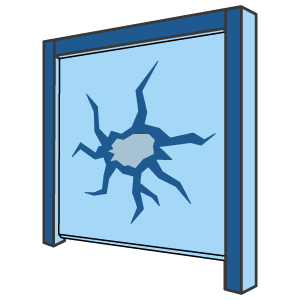 General poor condition
Garage door defects and damage in the form of cracks, dents or buckles will not only look unsightly, they may prevent the door from operating correctly. A regular maintenance regime is key for dealing with minor damage on steel, timber, GRP and ABS Plastic doors, and periodic professional servicing is highly recommended getting the most out of your door.
Experienced, qualified technicians
Whether your up and over garage door has suffered cosmetic damage, a structural defect or operational issues, we have the experience and expertise to deal with just about any garage door problem you can think of.
At Wessex Garage Doors, we have a specialist team of garage door engineers on standby to respond to any service enquiry swiftly and reliably, giving you the peace of mind of knowing that the problem will be fixed professionally.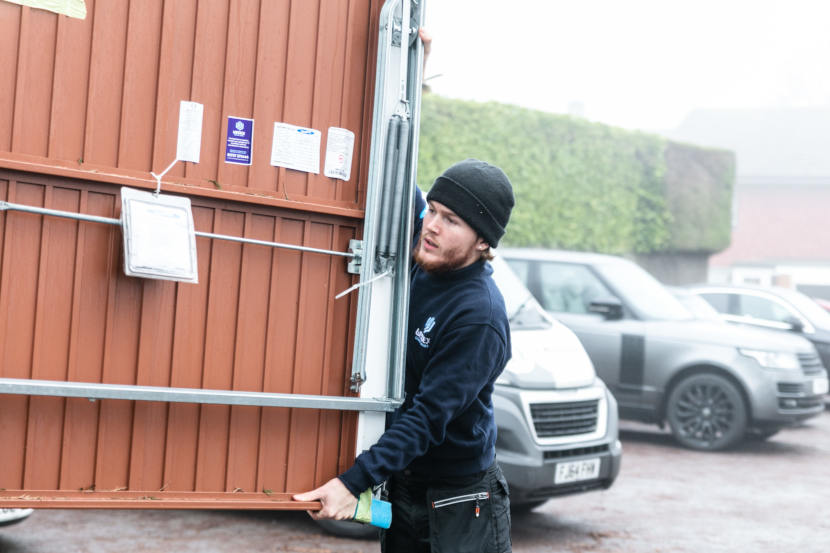 Spares and accessories available
We stock a vast range of high quality, authentic spares and replacement parts and accessories from all the major manufacturers for locks, handles, rollers, springs, cables and much more, and can order other parts very quickly. That way, we are able to carry out repairs on up and over garage doors with the minimum of delay and the maximum of convenience to our customers.
We also offer door automation, additional security options and regular servicing plans for your garage door, as a one-stop shop for all your garage maintenance needs.
BRANDS WE REPAIR
Contact us
For any enquiries about up and over garage door repairs in Surrey, Sussex, Kent and across the South East, please contact the Wessex Garage Doors team on 0800 161 3733 or send us a short message via the Contact Form here. We look forward to hearing from you.