Hardwearing and durable GRP (Glass Reinforced Polyester) or fiberglass garage doors are renowned for their stability, strength and resilience. They are lightweight and durable enough to withstand rust, splitting or rot and can endure harsh weather conditions, as well as minor bumps and knocks without compromising the security or appearance of your garage door. They're perfect for recreating stunning designs that are typically made from wood but are more affordable and without any of the maintenance concerns.
Design Choices for GRP Doors
While you may want a simpler garage door design, there are ways to customise your door to create a more bespoke look. In addition to the mechanism of the door, such as automating your door for added convenience and speed, you can also choose a door with windows that let in plenty of light to your garage and are aesthetically pleasing for added kerb appeal.
There are plenty of colours to choose from too, to suit your personal taste or to match the style of your property. You may also want to upgrade the locking system on your door for higher security or replace your timber sub-frame with a steel version for added durability and strength. Talk to a member of our team to discuss the options available to you.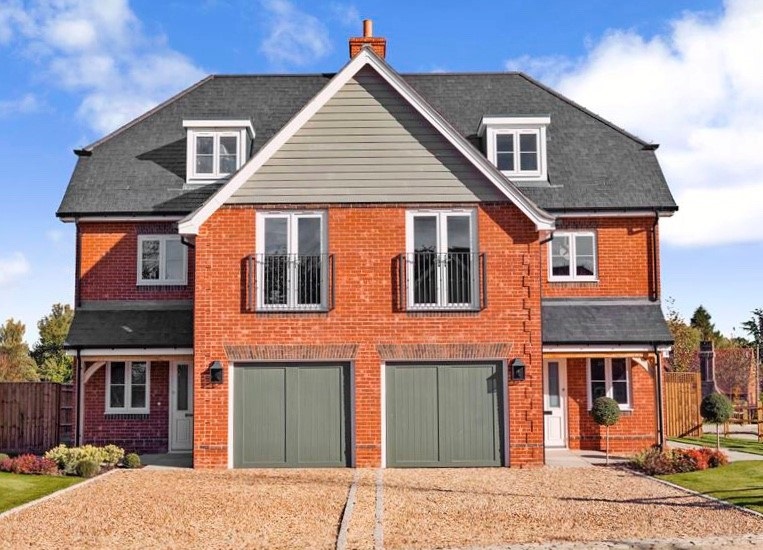 Naturally impact-resistant – GRP can withstand knocks and dents with ease, so it's not going to be damaged easily. GRP is incredibly stable and has been tested thoroughly, so it's ideal for providing durability and maintaining its aesthetic appeal for years to come.
Resistant to shrinking and warping – Unlike wooden doors, which can be prone to warping or shrinking if they're not properly maintained, GRP is low maintenance and won't change size or shape when exposed to the elements.
Attractive appearance – GRP doors come in a range of styles to suit your property, from high gloss finishes to wood replica doors that mimic the look of woodgrain, to gel-coat layers which create a moulded design.
Environmentally friendly – Since GRP is made from gentle compounds that are largely naturally occurring, and is also often made from grinding and re-using fillers with no long-term negative effects to the planet, GRP can be seen as an environmentally kinder material.
Greater security – GRP offers an excellent strength to weight ratio, meaning it provides fantastic levels of security for your garage and home.
Recent GRP Door Installations
Manufacturers for Steel Garage Doors
If you are interested in GRP doors for your garage, contact us to speak to a member of our expert team today to discuss your requirements. We work with a number of leading manufacturers including CDC, Garador, Cardale and more. We also offer GRP garage door delivery across the UK.
Below we have a selection of the doors available from our manufactures. For the full range, please contact us for a brochure.
CDC
The Corporate Door Company handmakes all of their GRP doors to order, in a wide variety of styles to complement the architectural features of your home. Click here to find out more.
GARADOR
Garador doors are fitted into a rigid box section chassis and deliver a stable garage door that guarantees no twisting or warping can occur. From brass effect or brushed steel handles to modern white handles, and a range of glazing options for windows, these doors are long-lasting and come in a host of different styles.
CARDALE
Cardale have over 50 years' experience in manufacturing GRP garage doors, providing lightweight, durable and aesthetically pleasing garage doors for your home. Click here to find out more.
Fiberglass Garage Doors
GRP, or fiberglass, garage doors are the perfect lightweight, maintenance-free material for the construction of high quality, long lasting garage doors. They come in a variety of styles including up and over garage doors, roller garage doors, sectional garage doors and automated garage doors. Once you've chosen your colour and finish, they need no staining or protective finishes to preserve their stability and appearance.
Up and over garage doors are a safe and reliable solution and represent excellent value for money. They're an extremely popular choice for homes everywhere. Our GRP up and over garage doors are available as ribbed and panelled designs, either as canopy or retractable doors. They look great in a choice of colours and long-lasting finishes that suit both modern and traditional properties.
Sectional garage doors are made up of separate sections rather than a single panel, so they open with virtually no loss of driveway space and with full opening drive-through width, perfect for wider vehicles. Sectional fibreglass garage doors offer excellent single skin or double skin thermal insulation, and rubber weather seals on all sides. Available in high gloss or fine wood effect finishes.
Roller garage doors have a space saving design that is perfect for short driveways and easy access. Open, the rolled-up door stores safely in its own compartment at the inside top of the garage. Closed, the absence of visible locks and handles offers unrivalled security. Our GRP doors are fully powder coated in a variety of finishes, and can easily be automated for complete peace of mind.
Automated garage doors offer the best in user convenience and enhanced home security, with a remote-controlled system that helps you future proof your home. We can install a brand new electric GRP garage door or retrofit automation to your existing door, ensuring many years of fuss-free, low-maintenance operation.
FAQs
How long are your garage doors guaranteed for?

At Wessex Garage Doors we have complete confidence in the doors we provide and install, so we offer a one year installation warranty from the date of install in addition to the manufacturers' terms and conditions. For more details please do not hesitate to get in contact with a member of staff who will be happy to provide you with any information you need.

How secure are your garage doors?

All of the garage doors that we offer come with a multi-point locking system as standard to ensure the highest levels of personal security for your home. If you would like more information about garage door security we would be happy to talk it through with you.

Are you able to repair garage doors?

If your garage door is in need of repairs, our team of experts and fully trained engineers can help you. We can arrange for a site visit to take a look at your garage door to establish the nature of the problem and then provide you with a full quote to get the issue sorted. Please get in contact with us to arrange a visit.

Do your garage door engineers operate near me?

Our engineers work throughout Sussex, Surrey, Kent and surrounding areas, for further details on the areas we cover please click here.

Will you price match against competitors?

We will always endeavour to provide you with the best possible price to have a garage door installed. Our value for money is second to none, so if you have been offered a better price on a 'like for like' product elsewhere please get in contact with us and we will be able to get you a better deal.

How much does installation cost?

Our prices for a standard installation start from £150, while electric garage doors and other more complicated installations may incur a higher fee of up to around £250. If you want us to carry out the installation please let us know and we will arrange a free site survey so that we can provide you with an accurate quotation for the work.
We Supply and Install Garage Doors at Market Leading Prices
We offer a wide selection of steel garage doors available in a range of different styles and colours. Whatever the look you are after, we have a bespoke design to suit.
Price Promise Guarantee
Free 12 Month Warranty On All Doors
100's Of Doors To Choose From
Book a free home survey