NEW GARAGE DOORS
Excellent, very efficient and answered any questions so I fully understood the answer. Very pleasant operator.
The workmen were polite and quickly did the job, tidied up after them and took the old door away. Before they left they gave a demonstration of how the door operated.
I contacted Wessex Garage Doors following a referral by a neighbour. Their product knowledge, pricing and installation was first class. I am so pleased with my new electric garage doors!
We were very pleased with the efficient and friendly way our order was handled, the door arrived on time. We are very pleased with the appeared and working of the door.
Automated Garage Doors
Wessex Garage Doors have a highly skilled team of garage door engineers who carry out a comprehensive installation service for any kind of automated garage doors. Whether you are planning to install new automatic garage doors or upgrade your existing door, we would be delighted to assist.
Electric garage doors deliver the ultimate in convenience, security and luxury. No more fiddling around with keys or clumsy handles, and no more lifting heavy garage doors. The elegant solution to accessing your garage door is effortless, using a handy remote control.
Why not make contact with our friendly team today to discuss all the available options for automated garage doors in Maidstone, and obtain a free quote?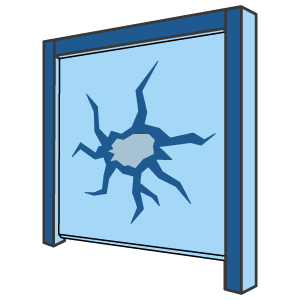 Garage Door Repair & Servicing
For specialist garage door repair services in Maidstone and beyond, Wessex Garage Doors are your 'go to' team of experts. We have many years of experience in dealing with all kinds of garage door repairs, ranging from minor cosmetic damage and dents to failed lock mechanisms, faulty handles and complete operational breakdowns.
Our technicians can carry out repairs to any brand of garage door quickly and reliably, sourcing replacement parts and spares at short notice where necessary. Rest assured that Wessex Garage Doors will get your garage door back to full functionality and visual appeal without undue delay and minimum inconvenience to you.
Please contact our technical team today for any enquiry regarding garage door installations, garage door automation or garage door repair services in Maidstone and across Kent.
Garage Door Installations in Maidstone
Before & After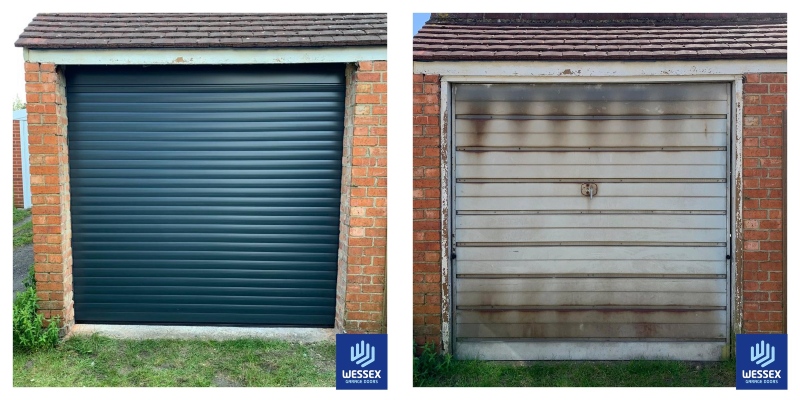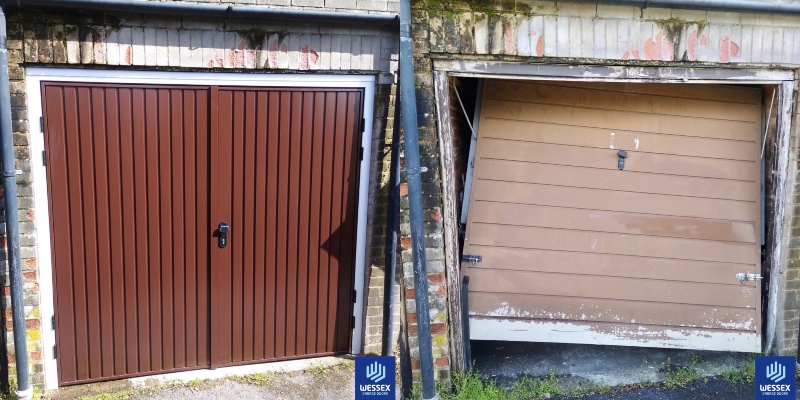 Why Wessex Garage Doors?
We are an established family business with a solid 30+ year track record of installing great quality garage doors in Maidstone and anywhere in the South East. We offer a vast range of garage doors, from traditional wooden models to contemporary roller and automatic doors and everything in between. With literally hundreds of styles, designs, materials, and colour options to choose from, we are confident that we can help you find the perfect garage door for your property and budget.
Why not come and visit us at our showroom in Surrey, just off J8 M25, a little more than an hour's drive from Ashford. Feel free to drop in for a visit to look at the types of doors that we have on display and talk through your requirements with our friendly team. We are always happy to give plenty of professional advice and guidance on all garage door-related matters to help you make the best decision.
At Wessex Garage Doors, we work with some of the best-known brands in the business including Hormann, Garador, Cardale, and many more. If you have a specific product in mind, please let us know and we will be delighted to help.
FAQs
How long does a site survey take?
As a rough guide, a survey will take 15-30 minutes, depending on the kind of property you have and the type of garage door you are interested in having installed. Once our surveyor has completed the survey, he will take you through a full breakdown of the pricing and answer any questions you may have. A written quotation will follow in the post.
What kind of garage door servicing is available?
To help maintain your garage doors for the long term, regular professional servicing is highly recommended. We offer a broad range of servicing options including a bespoke plan just for you. For new garage door installations and electric operators that we have installed, we recommend enrolling in our Service Passport scheme.
How secure are your garage doors?
All our garage doors come with a multi-point locking system as standard to ensure maximum levels of home security. We also offer 'Secured by Design' certified garage doors from a number of manufacturers. For detailed information about garage door security, please feel free to ask us.
Testimonials
"The fitters arrived on time, removed and disposed of the old door, and expertly fitted the new doors and frame. The work was done to an excellent standard, and they were friendly and cheerful throughout. They tidied up completely afterwards, and we are very satisfied with the job. We would definitely recommend Wessex Garage Doors, and would certainly use them again in the future.
"Excellent, very efficient and answered any questions so I fully understood the answer. Very pleasant operator".
"The workmen were polite and quickly did the job, tidied up after them and took the old door away. Before they left they gave a demonstration of how the door operated."
Follow Us On Instagram To See Our Recent Installations
Follow Us On Instagram To See Our Recent Installations