Shop for a new garage door
Excellent, very efficient and answered any questions so I fully understood the answer. Very pleasant operator.
The workmen were polite and quickly did the job, tidied up after them and took the old door away. Before they left they gave a demonstration of how the door operated.
I contacted Wessex Garage Doors following a referral by a neighbour. Their product knowledge, pricing and installation was first class. I am so pleased with my new electric garage doors!
We were very pleased with the efficient and friendly way our order was handled, the door arrived on time. We are very pleased with the appeared and working of the door.
Wessex Garage Doors supply high-quality garage doors at competitive prices to properties in Surrey and the surrounding area and the rest of the South East.
We can supply your new garage door, deliver and install it, and we offer repairs and maintenance services. Wessex Garage Doors works with the top manufacturers in the industry to provide you with a high-quality product, with an extensive selection of designs, colours and materials to choose from.
Our friendly and experienced team are available to offer advice and guidance when it comes to choosing the right garage door for your Surrey property. We can discuss the different options available to you, the benefits and considerations for each, and the different services we offer. Once you've chosen the garage door you want, simply let us do the rest for a hassle-free service and great results.
Automatic Garage Doors
If you're looking for a stylish, high security solution for your garage door, automation is the way to go. An electric garage door means no more fumbling for keys or lifting heavy doors. Instead, the door is operated via a remote controlled device at the simple click of a button. What could be quicker, safer and more convenient?
Wessex Garage Doors have a large choice of automatic garage doors available, featuring the latest technology to help protect your home now and in the future. In fact, virtually all our garage door options can be automated and it may even be possible to retrofit an electric door mechanism to your existing door.
With more than 3 decades of experience in the garage door industry, we've fitted numerous automated garage doors in Camberley and the surrounding area. Whether you choose a sectional garage door or a roller door for your home, why not contact us for a home survey and free quote?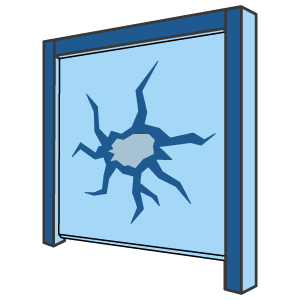 Garage Door Repairs
Is your garage door in need of some attention? At Wessex Garage Doors, we offer a full repair service to deal with any cosmetic, operational or structural issue affecting your door. From minor scratches and dents to failed lock mechanisms or total malfunctions, our highly skilled team will come out to diagnose the problem and repair your garage door efficiently and expertly.
What's more, we always have a large number of replacement parts readily available, meaning any repair work can be carried out with a minimum of delay, ensuring that your home security is never unduly compromised.
For customers who have bought a garage door from us, we offer our comprehensive Service Passport scheme. Members will receive an annual garage door service plus our guarantee to maintain the 'safe and reliable' operation of your door for a full 10 years, regardless of what the manufacturer's warranty says.
For details about our range of services for garage doors in Camberley or to discuss your specific needs, please contact us today.
Why Wessex Garage Doors?
We are a proud family business with more than 30 years providing premium quality garage doors for properties in the South East. We work with all the major garage door manufacturers in the business, including Hormann, Garador and Novoferm, to mention a few.
Customer satisfaction is very important to us. We are known as a complete garage door company, offering much more than just the sale of a new door. From expert advice and guidance to free home surveys, full professional installation to comprehensive aftersales maintenance and repair services, we are committed to ensuring that you will get the most out of your garage door. Take a look at our testimonials page to see the many glowing reviews we've been delighted to receive.
A garage door is a great investment into your home, and you will be spoilt for choice when it comes to selecting the best door for your home. Why not take a look at our Buyers' Guide to get you thinking along the right lines, and visit our online gallery for inspiration.
FAQs
Are you able to dispose of my old garage doors?
If you would like our technicians to remove your old garage door and dispose of it safely, in preparation for a new garage door installation by Wessex Garage Doors, we will be more than happy to help. A small additional fee will be charged for this service.
How do I correctly measure the opening for a DIY garage door installation?
If you wish to install your own garage door, you need to measure the width and height of the structural opening, taking into account that there may be variations across the space. To get the most accurate measurements, take readings at the left, centre and right edge, then the top, middle and bottom of the aperture. Always use the smallest of the width and height measurements, so that your new door will fit snugly into the opening.
How often should I have my garage door serviced?
Assuming that your garage door is in regular daily use, it is highly recommended that you have it serviced at least once a year to ensure the door remains in top condition. At Wessex Garage Doors, we offer regular service package options as well as a bespoke service plan when you purchase your new door with us.
Garage Door Installations in Camberley
Before & After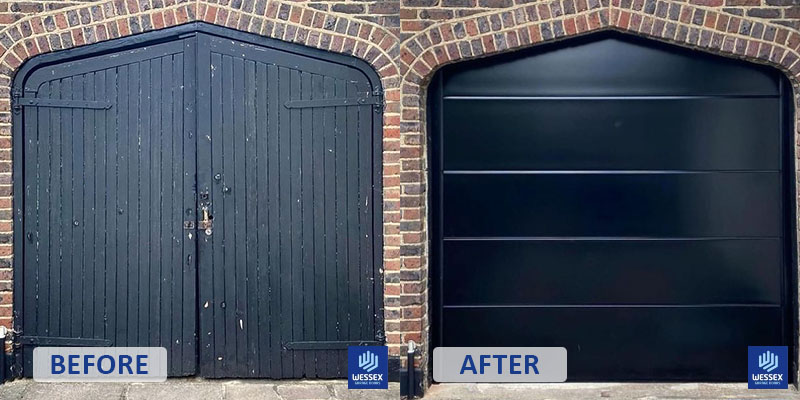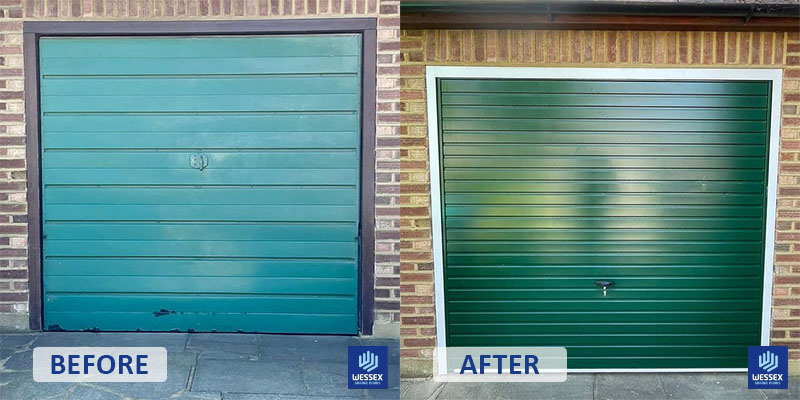 Follow Us On Instagram To See Our Recent Installations