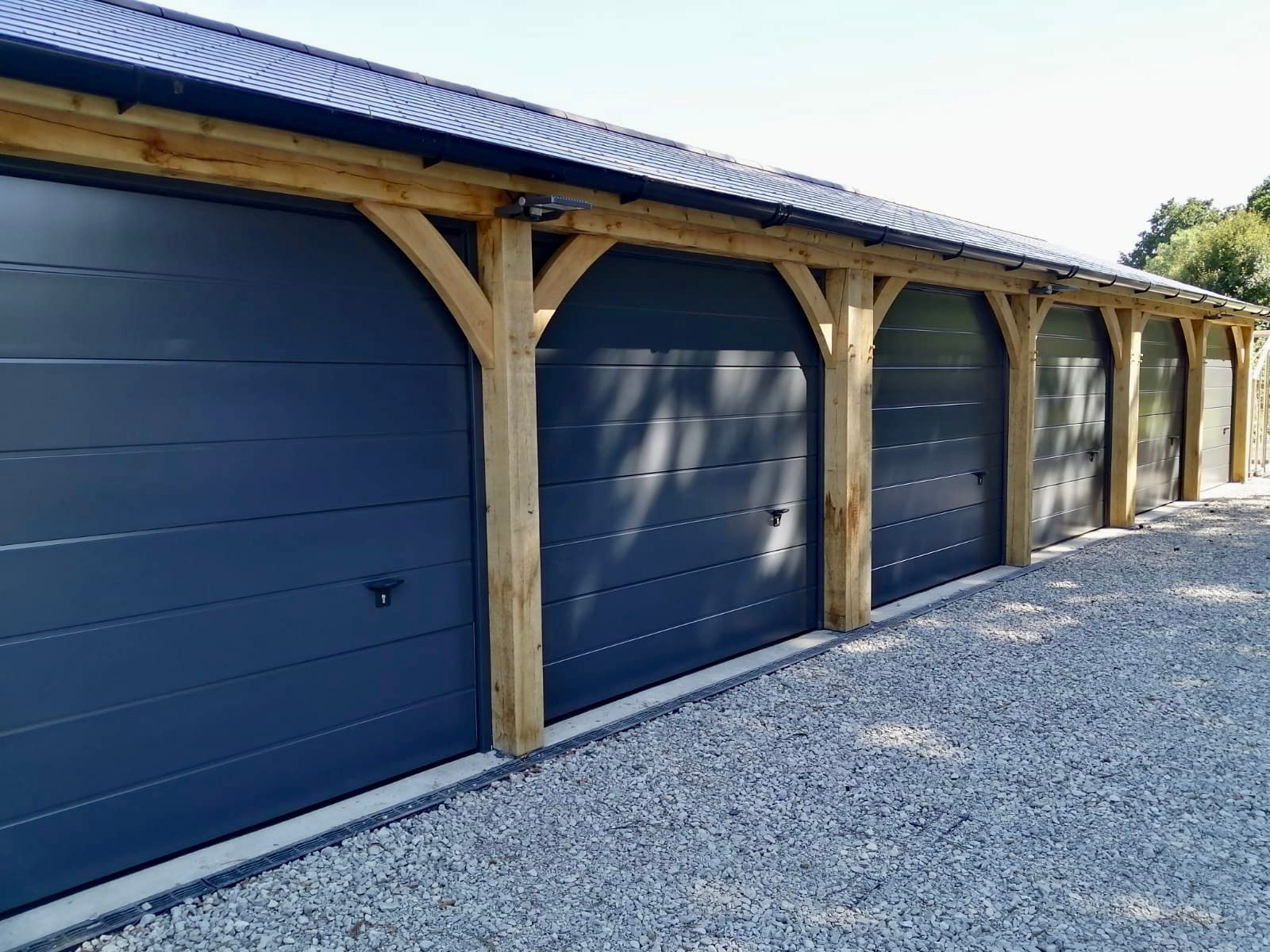 The hot weather and sunny days of the summer season will soon be drawing to a close, and cooler temperatures are just around the corner. Now's the time to check your garage door is in good condition to prepare for the dip in temperature and the increase in rainy days ahead. Here are our tips for garage door maintenance for the autumn.
Check the springs
Now's a great time to check the springs on your garage door to make sure they're working as they should. Try pulling the release handle of the door when the door is down completely and then lift it up partially and let it go down on its own. If it comes down very fast, the springs might need adjusting or replacing. It's also worth using this time to lubricate the door springs as this can dry up or harden, particularly on older doors, which can prevent the springs from working properly.
Choosing a new garage door?
Explore our range of leading garage door manufacturers. We'll help you to choose the right door for your home.
Search Garage Doors
Clean your garage door
It's good practice to get into the habit of cleaning your garage door regularly, to preserve the material and its appearance. A change in season can serve as a useful reminder to get the cleaning products out and give your garage a little TLC. If you have a GRP door, you can use a standard all-purpose cleaner to wipe it down. If your garage door is made from wood, make sure there's no water damage or warped areas, and use a mild detergent watered down with plenty of water to clean off any dirt and grime. Rinse thoroughly and leave to dry completely.
Ensure the seals are in good working order
You want to be sure that the seals around your garage door aren't cracked or broken, because as the weather turns, the likelihood of wind and rain coming into the garage will increase. Not only can this lead to flooding and water damage, but it will also make it draughty and cold. Check that the bottom of the door seals to the ground. If you notice there's any room between the door and the floor, it could be time to have the seals replaced.
Clean or install guttering
Any rain gutters above your garage will help to carry excess water away from your garage door – something that's especially important if you have a wooden door. So, if you don't already have gutters in place, consider installing some. If you do already have guttering in situ, make sure they're free from leaf and twig build-up before autumn, as this will cause leaks.
Replace the rollers
It's recommended that you replace the rollers on your garage door every five years, and have them checked and serviced at least once a year. If you've not done this yet, now's the perfect time to do so before the weather gets colder. You'll want to check that there are no signs of wear and tear, chipping or cracking. Should you spot any, have them repaired as soon as possible to keep the door in good working order.
Keep water flowing away from the garage
The pathway from your drive to the garage needs to be sloped away so that any water can be diverted in the right direction. Check that any soil or planted areas around the garage are also lower than the surface, as if they're higher than the drive, it could cause rainwater to flow onto it and put your door at risk.
Many of these jobs won't take you very long to complete, but they can save you a lot of time and money in the long run. Having a regular maintenance routine in place will prevent any damage or disrepair occurring on your door and will ensure that you can spot issues early before they become expensive to repair.
Get in touch
At Wessex Garage Doors, we specialise in the supply, installation and maintenance of all types of garage doors. If you're in need of further advice on how to look after your existing garage door or you're interested in replacing it with a new door, get in touch with a member of our team.