When you purchase a garage door, you want to ensure your investment stands the test of time and lasts for many years to come. A big part of this is maintenance and repairs to keep it functioning properly and to avoid the risk of any faults developing. But while the DIY approach might be tempting to save time and money, it's not always the best route. These are just a few of the reasons why choosing a professional company to carry out your garage door repairs is essential.
Avoidance of security issues
When you have the assistance of a professional technician repairing your garage door, you have the confidence that the job will be completed to a high standard. Doing the job yourself might be cheaper, but you run the risk that the finished result won't be up to the same standard, which can lead to your garage being unsecure and easier for criminals to break into. There's also the concern that, as a DIYer, the job will take much longer, which means you won't be able to lock your garage in the meantime – if the job takes you several days to complete, that's a big security risk that you can avoid by having a professional take care of it.
Knowledge to carry out the right repairs
If you've not worked on garage doors before, you may be overwhelmed by the different mechanisms and elements of the door. And when it comes to making repairs, you could find yourself making matters worse if you don't know precisely which area requires fixing, particularly if you're trying to repair an automated garage door, where there are a number of components that require expertise in order to fix them properly. A qualified garage technician will be able to identify the problem quickly and efficiently, with the knowledge of how best to resolve it.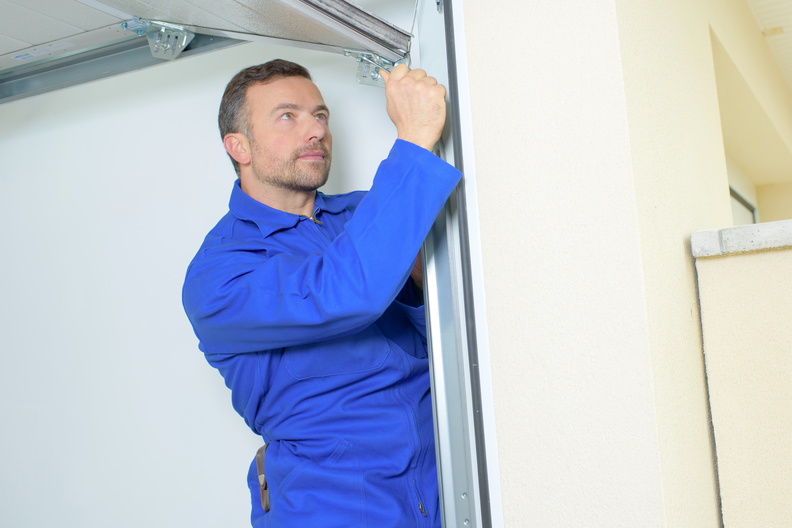 Increased safety
Garage doors are heavy, and an accident can be disastrous for you or your family if anything goes wrong. A seasoned garage door professional will work with colleagues to ensure that the door is fixed safely and to reduce harm to anyone involved while the repairs are being carried out.
Access to specialist equipment
Depending on the repairs needed, you may need specialist equipment to carry out the work, which can cost you a lot of money to buy if you don't already have it. Not only will you need to buy the equipment but there may also be a learning curve in using it correctly and safely. A skilled technician will have access to all the equipment they need to do any repairs, plus they'll have the knowledge of how to use the tools properly, whether it's a broken spring, a damaged control panel or an issue with the door tracks.
Advice if you need to replace the door
Sometimes, a fault will be so large that a replacement door is required. In these instances, a professional advisor will be able to help you find the right replacement for your property, budget and requirements. You may want to change the look of your garage for upgraded kerb appeal, you may want to go electric for added convenience or you might want to replace the door like for like – whatever your needs are, our team will be able to help you find the right solution.
Choosing a qualified professional
When you're in need of a garage door repair, it pays to find a company that's experienced and has a great reputation. You should look for a company with industry experience, and a team that's fully qualified and skilled in what they do, with a long list of happy clients and a strong reputation to back up their work. Wessex Garage Doors fulfil these criteria, and we work with leading manufacturers for a high-quality result that you'll be proud of.
Key takeaways
There are many benefits to utilising a professional garage repair service if you find a fault with your garage door. Not only is it more convenient and efficient, but it's also cost-effective, safer and helps you avoid any security issues for your property. Contact the team at Wessex Garage Doors today to book in a repair or for advice on the right replacement door for your garage.