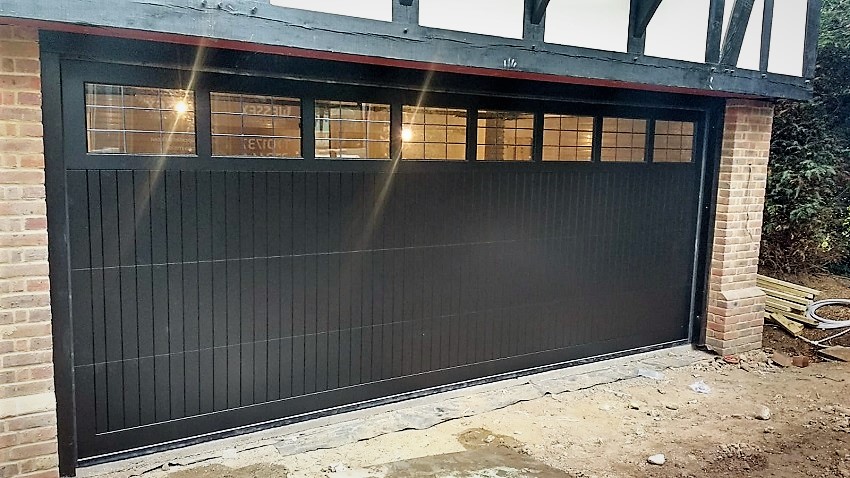 It's critical to have a secure, functional garage door in order to protect your property and avoid accidents from occurring. But if you're replacing your garage door, it can be tough to know which style to choose. Each has their own pros and cons to think about, depending on your garage and style of property. Here's how to choose between roller, sectional and up and over garage doors.
Roller garage doors
Roller garage doors work with virtually every shape of garage opening, whether it's inside, in between or in front of the opening. There's no internal tracking to worry about with a roller door which makes for a more compact operation and greater durability. They are constructed by interlocking slats which merge together to create a solid curtain when it's rolled down.
Roller garage doors increase the amount of available space in your garage, so they're ideal for smaller garages, and you can choose insulated doors for energy efficiency and reduced heating costs. They're also a low-maintenance solution. However, they may not provide the luxurious aesthetic you might want for your property, as they have a simpler design.
Sectional garage doors
Practical and suitable for most sizes of garage, sectional garage doors are a popular choice. This style of door is made of several horizontal sections, which makes it easy to repair damage to the panels without needing to replace the whole door.
Because the door is made up of panels, it's also easy to create a door to virtually any shape or size. Sectional doors are ideal for providing security to your home and they can be automated if need be. When the sectional garage door is open, it sits flat underneath the roof of your garage, so it's not always practical for very large homes or commercial garages. However, if your budget allows, sectional garage doors are an aesthetically pleasing choice that is easy to operate.
Up and over garage doors
An up and over garage door is a style that lifts from the bottom of the door and turns to become horizontal. When the door is fully open, it tucks against the ceiling of the garage and then slides out to be lowered until it's vertical when you're ready to close the garage up. This style is a no-fuss system that has a simple design and is easy to operate. Because of the simplicity of the system, they are a low maintenance solution. But they can also be automated if you want the added convenience of simply pressing a button from the seat of your car.
Up and over doors have visual appeal and they're a great way of adding kerb appeal to your home. They have a classic design that offers up plenty of opportunities for customisation, so you can tailor it to suit your tastes.
Choosing a new garage door?
Explore our range of leading garage door manufacturers. We'll help you to choose the right door for your home.
Search Garage Doors
What else should you consider?
In addition to the style of door you choose, there are other features to think about when you're planning your garage. What flooring do you need? The right flooring will make your garage comfortable to walk around in and will also elevate the look of the space as a whole too. You also need to consider insulation which will keep the interior of your garage a comfortable temperature and protect your belongings. There's also the issue of which material you want your door to be made from, whether it's wood, steel or fibreglass.
Final thoughts
Choosing the right garage door for your needs and your property style takes some research, but it's worth the time investment to get it right. From the durability of a roller door to the versatility of a sectional, and the aesthetic look of an up and over, there are pros and cons to each style to bear in mind before you invest.
If you need help choosing a garage door for your home or business, or you have questions about the brands and styles we have available, get in touch with us today. Our experienced team have a wealth of knowledge on all styles of garage door, and we'll be happy to help you.