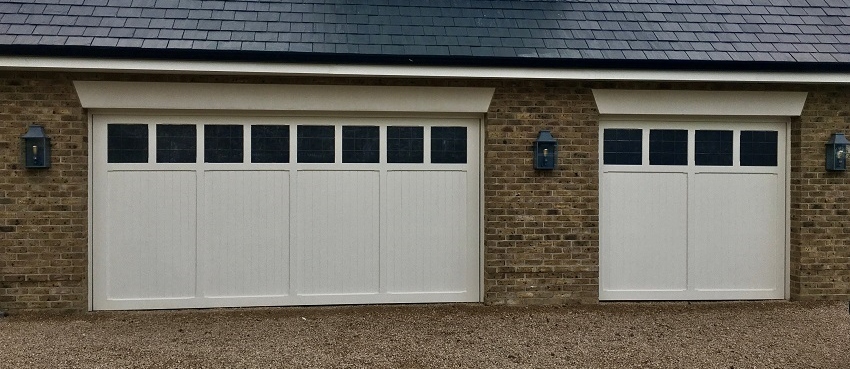 Garage doors have undergone a major transformation in recent decades. While old-fashioned garage doors were manually operated and very basic in function, modern garage doors have taken convenience, security and customisation to the next level. If you still have a traditional-style garage door, it may be time to consider upgrading to a more modern system.
Here, we'll compare old traditional garage doors to the new technologically advanced ones available today. The upgrades in features and technology make modern garage doors well worth it over the old-fashioned styles.
The convenience of a modern garage door
When it comes to convenience, modern garage doors are leaps and bounds ahead of traditional doors. One major convenience is the speed at which modern electric garage doors can open and close. With just the click of a button on a wireless remote or smartphone app, a modern garage door lifts open swiftly and smoothly. This saves you time and frustration compared to old manual doors.
Additionally, keyless and wireless controls have made operating a garage door incredibly simple. No longer do you have to get out of your car in bad weather to wrestle with a manual lock or lift a heavy door by hand. Just drive up, press your remote and drive straight into your garage.
How to enhance your garage's security
When it comes to securing your home, a garage door can be a major access point for intruders. Modern garage doors have much stronger security features compared to traditional doors. Sensors also detect obstructions and reverse the door, adding to the safety of your door.
Many modern garage doors are constructed from heavy-duty steel or GRP that are more resistant to forceful entry compared to old doors. The lock mechanisms used on modern doors are also more secure and can incorporate encrypted opener technology to prevent hacking of the wireless signal.
Choosing a new garage door?
Explore our range of leading garage door manufacturers. We'll help you to choose the right door for your home.
Search Garage Doors
Improved energy efficiency with modern materials
When it comes to energy efficiency and controlling costs, modern garage doors are far superior to traditional garage doors. Modern doors are engineered to be much better insulated than old-fashioned doors. They incorporate weatherstripping, thermal seals and insulated panels to prevent drafts and the loss of heated or cooled air. This makes the garage area warmer in winter and cooler in summer, reducing energy usage.
Many modern doors also have motion and occupancy sensors. These detect when a car is not occupying the garage and will automatically close the door to maintain the desired temperature inside. By comparison, traditional doors often get left open, wasting energy in the process.
When you add up the improved insulation, automatic closing features and advanced window materials, modern garage doors provide significantly better energy efficiency compared to old draughty doors. This results in lower utility bills and savings on heating and cooling costs for any home.
A range of customisation options
When it comes to aesthetics and matching your home's style, modern garage doors provide far more customisation options compared to traditional doors. Modern doors come in a wide range of materials from steel and composite to glass and wood. You can select the perfect material to complement your home's exterior whether it's traditional, modern or contemporary. Modern doors also come in many colour options from basic white or brown to bold hues.
The window designs on modern doors are also very customisable. You can choose from arched windows, rectangular, diamond-shaped and much more. The number of window panels can also be customised to your desired amount of natural light. For a truly one-of-a-kind look, you can also pick decorative hardware pieces in different finishes.
The high degree of customisability allows modern garage doors to add aesthetically to your home's kerb appeal. With traditional doors you were very limited to basic colours, standard window kerb and generic hardware. Modern doors let you match both form and function to your lifestyle and design tastes.
Upgrade your garage door today
It's clear that when it comes to garage doors, the modern, technologically advanced options available today far outshine the traditional garage doors of the past. Modern doors excel in the areas of convenience, security, energy efficiency and customisation.
At Wessex Garage Doors, we provide a wide range of options from leading manufacturers in the industry. Get in touch with us to arrange a free home survey.