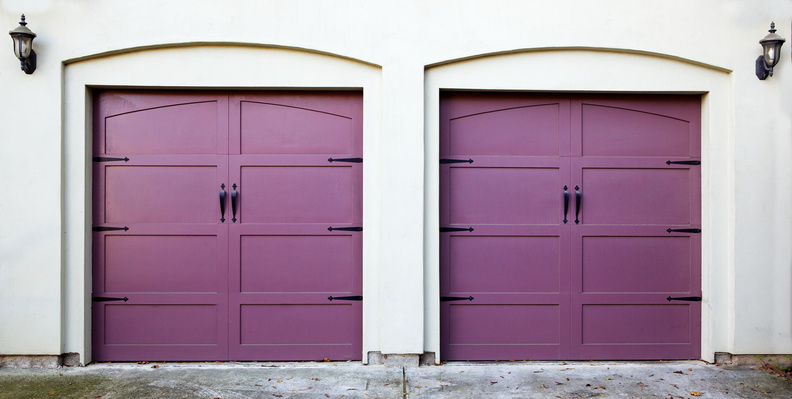 There are various elements to consider when buying a new garage door, from the material you choose to the opening mechanism. But colour also plays an important part. After all, the wrong colour can make a huge difference to how well your garage door suits your property and whether it enhances your home's kerb appeal. So, with that in mind, we've put together some of our top tips for choosing the right colour for your garage door.
Look at the colour of your property
The first step to picking a colour is to look at the colour of the rest of your property, as you want to be sure the garage door blends in. If the exterior of your home is a pastel blue, for example, you don't want to choose a bright colour that clashes and looks out of place. Think about the bigger picture and consider how the garage door will blend with the rest of your home's exterior. This will not only provide a cohesive look but also help to make your property look larger, which can be a big selling point when it comes to enhancing kerb appeal.
Get inspired by your neighbours
If you're unsure which colour to go with, it can be beneficial to take a walk around your local area for inspiration. Once you're on the lookout, you're likely to see a wide range of colours, from neutrals to bright and bold shades, which can provide inspiration for your own property. Similarly, look to your immediate neighbours if they have garages to see which colours they've chosen. You might want to blend in with a similar shade for a cohesive look to your street, or you might live in in an area where the properties are more traditional and want to retain a similar look to your neighbours.
Go with a contrasting colour
If you're looking to make more of a feature of your garage, a contrasting colour can be really effective. Perhaps your home is white or has a brick exterior and you want a way to add personality and colour to your home – in these instances, a yellow garage door or a similarly bright and welcoming colour can make more of a focus of your garage and sets your home apart. Alternatively, you could create a subtler difference with a wood grain garage door that is elegant and stylish and will provide a rustic look to your property.
Look to the most popular colours
When all else fails, going with tried and tested colours will yield a positive result. Blacks, blues, greys, greens and reds are common colours for garage doors, and they're a fairly safe bet for your property if you're unsure what to choose. A neutral colour like black, white or beige is mostly likely to work with any colour property and delivers a timeless look that will stay in style for years to come. We provide a range of leading manufacturers who offer garage doors in a host of colours, such as steel Novoferm doors which can be purchased in rich greens, blues and reds for a sophisticated yet colourful addition to your home.
Match with the trim of your home
When it comes to choosing the colour of your garage door, another way to determine the right colour is to look to the trim colour of your home, such as the woodwork of window frames, the fascia, guttering or drainpipes, as these may already be a specific colour. Often these will be painted to a uniform colour which can provide a good foundation for your door. Matching with this will create a unified look and ensures your garage won't stand out for the wrong reasons.
For advice on choosing the right garage door for your home, from the style and mechanism to the colour, the team at Wessex Garage Doors can help. We have over 30 years' experience in this industry, and we are well placed to help you find your ideal garage door. Get in touch with us today for more information about the doors we provide or for advice when choosing the right colour or style for your garage door.
Choosing a new garage door?
Explore our range of leading garage door manufacturers. We'll help you to choose the right door for your home.
Search Garage Doors