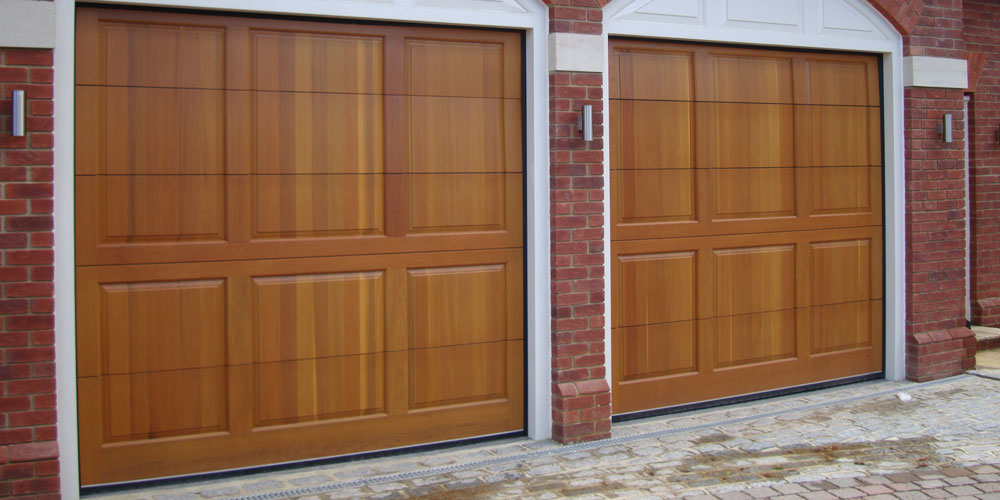 Your garage is designed to house your vehicle, but in many cases, it's so much more than that – it can be everything from a workshop for DIY projects to a place to store belongings and gardening equipment, or even a home office or workout space. With this in mind, having a secure garage door is vital to ensure that whatever you use your garage for, it's a safe and secure part of your home.
Sectional garage doors are incredibly popular, and with good reason. If you're considering a sectional garage door for your own home, this is the ultimate guide to choosing the right style and what to consider with this type of door.
Benefits of a sectional garage door
A sectional garage door is made from several rectangular sections which sit flush against one another. This creates sleek lines and a contemporary look, regardless of what material you choose, and the material will determine whether the door has large, medium or small ribs.
These doors offer a smooth operation and rise up vertically, with each rib folding into the garage roof to be suspended under the ceiling. A sectional garage door can range from upwards of £2,000 for a single door up to £10,000 for a double garage door, depending on the features and brand you choose.
Choosing a new garage door?
Explore our range of leading garage door manufacturers. We'll help you to choose the right door for your home.
Search Garage Doors
Sectional doors make great use of space, so you can park right up to the door and still open and close it without it hitting your vehicle. Likewise, it maximises space internally, because you can place items right up against the door without worrying about obstructions. They also offer improved thermal efficiency when insulated, to create a more comfortable garage space.
One of the primary reasons that sectional garage doors are so popular is the wide variety of choice you have, from materials to the colour and finish of the door and customisation features such as windows to ensure it's in keeping with the style of your home.
What to consider
If you're in the market for a new garage door, there are a few things to consider before choosing the final door to be installed.
Firstly, what size do you need? Garage doors come in different sizes, and you'll find that there's a standard range which most doors fit into which measures between 6-10ft wide and 6-7ft wide, but finding a door that exactly fits your garage specifically can be a challenge. Measuring the space is the key to getting a snug fit for your door – our installation team can help you with this.
Secondly, think of what you want to use your garage space for. The plans for the space will influence your door, based on how secure you need the area to be. If it's storing your vehicle, for example, you're likely to want to invest a bit more in a more secure design to keep it safe. Sectional garage doors are one of the most secure styles you can buy, so they provide that piece of mind. If you plan on using it as a work space, on the other hand, insulation may be of more importance to you to make your garage warmer and more enjoyable to spend time in.
Lastly, aesthetics are important just as much as functionality. Looking for a colourful option for your sectional door gives you the opportunity to get creative with the look of this part of your property, but you may also want to look for a door with windows or unique features to set your home apart from others in your local area.
Manual or automatic?
Once you've decided on the style, you need to choose whether you want a manually tilting door or an automatic garage door. Manual tilting garage doors tilt upwards into the roof space and are easy to operate, but won't offer much in terms of versatility. However, they're great as a budget-friendlier option and are relatively easy to maintain.
If you want more convenience and security, an electric garage door is a great alternative. They're available in a range of options depending on your budget and can be custom-built to suit your needs, fitting your garage perfectly and offering much better results in terms of heat retention and security. Electric sectional garage doors are more expensive, but they offer more advantages.
Get in touch
A sectional garage door offers so many benefits for homeowners, providing security, strength and longevity. There are many styles, finishes and colours to choose from, so whether you have a traditional home or want something more modern, a sectional door can work well. At Wessex Garage Doors, we can help you find the perfect sectional garage door for your property and budget – contact our team today for our expert guidance.