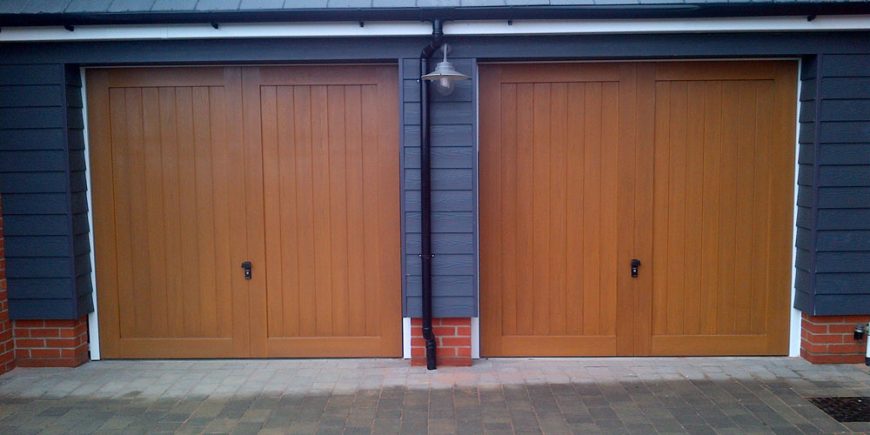 A wooden garage door is the perfect solution for giving your home a warm and welcoming feel. At Wessex Garage Doors, you can choose from a range of timbers including rich tones of cedar, pine and hemlock in a wide variety of styles to complement any style of home.
While all our doors are fully treated to protect against the weather and fungal infestation, a little regular TLC goes a long way to ensure that your garage door stays in top condition all year round. Here are our recommendations on how to look after your wooden garage doors.
Regular cleaning regime
Good maintenance starts with regular cleaning. Wet weather conditions combined with a slow accumulation of dust and dirt will make your garage door dirty and sticky over time. Left undealt with for long periods, this can even lead to the onset of rot and timber decay.
To guard against deterioration, it's recommended that you clean the inside and outside of your wooden garage door on a regular basis. A bucket of hot water with a squirt of mild detergent is all that's needed, along with a soft cloth and some elbow grease to wipe the door down and get rid of grime.
Periodic re-staining
If you've chosen the beautiful natural grain of a wooden garage door as a feature for your home, the surfaced will need re-staining every 3 years or so – more often in coastal locations. Investing in a quality wood stain helps to protect the timber surface and either keep the existing shade or change it. Applying a tough, weather resistant finish will help to keep your wooden garage door looking attractive for longer.
Start with a good clean and rinse to get rid of surface debris (see above) and let it dry for at least 3 hours. Next, disconnect the automatic opening mechanism, then sand down the door with fine to medium sandpaper and wipe down with a lint free cloth. Apply the wood stain evenly with a brush.
Check for door damage
Every 6 months or so, it's a good idea to look over your wooden garage door mechanism to check for wear and tear. This can, over time, affect the door panels or stain/paint finish. Gaps or cracks appearing on the coating of the door should be dealt with immediately before they lead to more serious damage. If you hear screeching or scraping sounds, this too needs to be investigated straight away.
Test any automated garage door mechanisms for safety, including the automatic power unit, springs, rollers, clamps etc and invest in an annual service to ensure everything is in full working order. To test the sensor, you can do this yourself by placing a small piece of wood under the door and press 'close'. If all is well, the obstruction will trigger the garage door to go into reverse.
Seals and lubrication
The key to keeping your wooden garage door operating smoothly, including any automatic opening mechanism, is to ensure that all moving parts are suitably lubricated. Every 3-4 months, clean out any dirt and debris from the moving parts and tracks, and apply lubricant as needed. Be advised that you only need a small amount; too much oil can attract grime and grit!
Finally, check the seals around the edge of the door. If you can see daylight between the seals and the timber, the seals are no longer performing the job of keeping the door and your garage contents safe from the elements. At Wessex Garage Doors, our repair and accessories team will be able to source a replacement part and fit it for you too.