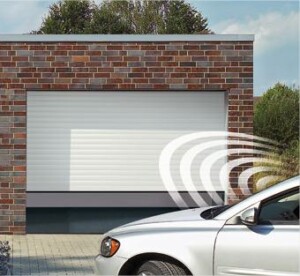 One of the biggest selling points for electric garage doors is their convenience during the winter months. There's no need to get out of the car to battle the elements in the cold and rain to struggle with a clumsy, heavy manual door. Simply drive up, press a button and drive straight in without even turning down the heating!
So to ensure you never have to leave your car until your safely sheltered in your garage – make sure you carry out a few simply maintenance checks that will prepare your garage door for the cold, winter months.
#1 Backup Power
One of the worst things about the winter weather is its ability to knock out our power supply. This is annoying enough if you're in the middle of watching your soaps, or if you have a fridge full of food – but can be extremely frustrating if you can't close your garage door leaving it open to the elements, or if you can't open it, leaving your car stuck inside! There is a simple solution to this – either ensure you have a manual opening alternative or a backup battery power supply so you can still use your garage even if the mains electric supply fails.
#2 Check for Gaps
The last thing you want is the miserable winter weather creeping in to your garage through cracks or gaps, letting in draughts and making your heating work harder. So to ensure you can keep the temperature comfortable in your garage, and become more energy efficient, check all around the doors and windows for cracks that could be letting the cold in and make sure they have been sealed off – otherwise there's no point in investing in an insulated, electric garage door to protect the inside of your garage!
#3 Weatherseals
Clean the weatherseals around the edges of your garage door every couple of weeks and ensure they are lubricated every couple of months to stop them drying out or cracking and becoming useless. If you don't have weather tight seals on your automatic garage door get a professional in to have a look at ways to insulate your garage and install some seals which will help to retain the heat.
#4 Mechanism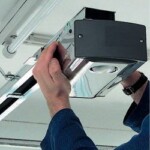 Using a silicone based lubricant, ensure that all the moving parts in the operating mechanism are properly lubricated. Keeping the hinges, rollers and tracks in perfect working condition is essential for the smooth function of your door and to stop rusting. You can also take a cloth and apply lubricant to the springs which will help to quiet noisy doors!
#5 Clear the Tracks
Every week or so make sure you inspect your garage door tracks, remove any grit or debris and clean away any dirt to ensure they are left clear and able to function smoothly. Another thing to check is that the tracks are still aligned properly as they can easily be knocked out of line with bumps and scrapes and this could cause the door to stop functioning properly.
All electrical appliances should be checked and serviced periodically to ensure they are still functioning properly and safely. So, make sure you contact a professional to have a look at your electric garage door at least once a year – and what better time to do it than the beginning of winter to ensure you're not left out in the cold should your door fail.