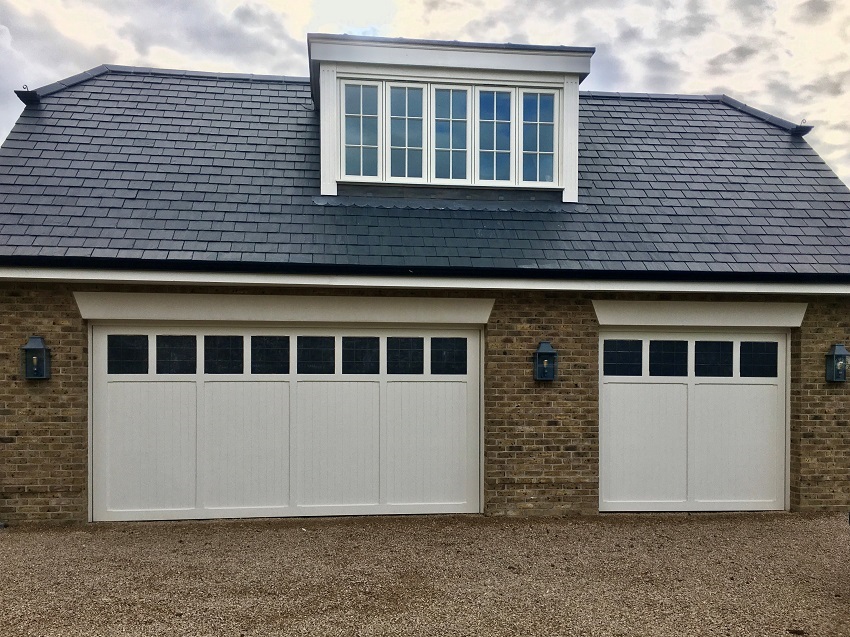 When it comes to creating a modern and efficient home, more and more consumers are seeking sustainable options that are not only more effective but also better for the planet. There's a bigger choice than ever in terms of products and materials that look great, deliver great results and reduce your carbon footprint at the same time.
A greener garage door protects the environment in several ways, from the use of sustainable or recyclable materials to the longevity of the material itself and the energy-efficiency the door provides for your property. Whether you're upgrading your existing garage or you're starting from scratch, here are some ways to ensure your garage is as sustainable and energy efficient as possible.
Consider the material you choose
Garages come in a range of materials, so knowing which options deliver the right balance of functionality, aesthetic appeal and sustainability is key. Wood, for example, is a classic choice for garage doors and, providing it comes from an environmentally sustainable source, it can be a sustainable choice. In addition to checking whether the material itself has been sourced responsibly, you can also look to manufacturers to see whether they use environmentally friendly suppliers and techniques.
Wood provides a beautiful appearance and good insulation, as well as being easy to repair. But it does require regular maintenance to keep it in top condition. Another option is fibreglass which is regarded as being a great choice for durability and insulation properties. GRP or fibreglass garage doors require little finishing or maintenance, and they are highly efficient.
Invest in insulation
Insulation is important to keep the heat in and to reduce energy expenditure, particularly for the likes of steel garage doors which transfer hot and cold temperatures more easily. The energy-efficiency of your garage door doesn't only affect the environmental impact of your garage, but it could also help save you money on utility costs.
To make your garage door energy-efficient, you should either update your existing door with insulation or choose a modern garage door which has insulation already included. In addition to the insulation, make sure you seal any gaps and choose an energy-efficient window if your garage door has a window set into it. Perimeter weather stripping can also help to seal the door and keep the heat in.
Think about longevity
In addition to thinking about the eco-friendliness of the materials your garage door is made from, you also need to consider the durability of the door. Whatever material you choose, it needs to be able to withstand many years of weathering and general wear and tear. From a sustainability standpoint, the longer your garage door lasts, the better, as this means it won't need to be replaced as often and won't wind up in landfill. So, it pays to choose wisely and consider the climate your home is in.
If you live in a colder climate, fibreglass can become brittle over time and, because they are lightweight, they may not hold up to harsh winds. However, because this material is impervious to salt corrosion, they're perfect for coastal environments. Steel garage doors offer great security and longevity, as well as the option of being recycled when you need to replace the door. If they're well maintained, wooden doors have great insulative properties and are strong and durable, keeping your garage door secure.
Choosing a new garage door?
Explore our range of leading garage door manufacturers. We'll help you to choose the right door for your home.
Search Garage Doors
Final thoughts
Sustainability doesn't just benefit the environment, but also homeowners – by choosing an energy-efficient, long-lasting garage door, you'll save yourself money on maintenance costs and in energy costs. While your garage may not be the first area of your home where you consider sustainability, by incorporating these tips into your decision-making process, you can make an eco-friendlier choice.
If you have any questions about choosing a new garage door or you'd like more information, contact our friendly team today and we'll be happy to help. Wessex Garage Doors have over 30 years' experience and we stock a wide range of garage door styles from all the leading manufacturers.