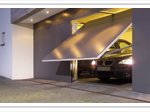 Most people see their garages as an outside room, rather than an extension of their homes, which means they are often overlooked in relation to making them more energy efficient and reducing your home's carbon footprint. So it's no surprise that garages are the most inefficient room in the house, letting draughts in and allowing heat to escape easily – which is bad news, especially with winter fast approaching!
But don't worry, there are a few simple steps you can take to get your garage ready for winter, protect your home from the cold weather and better your energy bills!
#1 The ceiling and walls
Insulating your garage doesn't have to cost a fortune, just invest in a suitable u-value insulating material and ensure it is properly installed between the rafters of the roof and, depending on the type of walls you have, you can get a company in to blow insulation into the cavity or line the walls with a suitable bubble foil insulation. This is well worth the investment, and you'll notice the difference straight away!
#2 Seal the gaps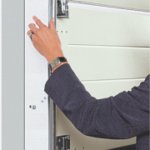 Builders caulk is ideal for sealing the gaps around the floor, windows and doorframes, creating an airtight, weather and water proof barrier! It provides the perfect thermal insulation, is affordable and easy to apply. Simply choose a silicone or latex based caulk to ensure it stops water penetrating the gaps for a quick fix in time for winter.
#3 The garage door
Your garage door is probably where you lose most heat from. A single layer of steel or aluminium transfers heat and cold easily from the outside, so if you're trying to be more environmentally friendly it's essential you insulate it. You could replace your garage door with a more modern, ready insulated one – but in the meantime look into insulation kits or invest in some bubble foil roll or foam board and attach it to the inside to keep the heat in during the winter and out during the summer!
#4 Weather-stripping
Most new garage doors come with a weather-strip around the perimeter of the door to stop cold air getting in. If yours doesn't already have one, it's cheap to buy an easy to attach. Make sure you put it around internal doors too if you think there might be gaps – if you're not sure turn the light on in the garage and shut the door – if the light shines through around the edges there's a gap that heat could escape through!
#5 Door seals

The bottom seal on your garage door is there to prevent water and debris getting in, but after a while it can begin to wear and not do its job properly. The same is true of the individual joints between the garage door panels. A simple visual inspection will let you know if these need replacing – if they look worn, either a get a professional in to replace them, or, if you're a keen DIYer, have a go yourself.
If you think your garage door is too old, worn or rickety to insulate – contact a professional company to find out more about repairs, or a more cost effective replacement garage door. Investing in a new, well insulated door could save you lots of money on your energy bills, help to protect your garage and its contents from the weather and enhance the visual appeal of your property!