If you're thinking of switching to an automated garage door, you may be wondering how to choose from the many types of electric opener for your existing garage. In this guide, we'll take you through the different types of garage doors that can be automated, as well as factors to consider when choosing the right electric opener for your garage.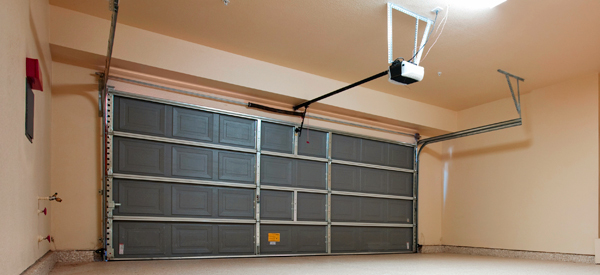 Which Garage Doors Can Be Automated?
Before you can choose the right electric garage door opener, you need to know what type of garage door you have and whether it can be converted to an automated opener. The easiest doors to transform into automatic solutions are:
One Piece Up and Over – These retractable garage doors have spring-assisted horizontal runners which go into the garage roof to save space.
Roller Doors – If your door is a continuous curtain single-skin steel roller door, it is easy to switch to an automatic version.
Sectional Doors – These doors have the same requirements as a retractable door.
Side-Hinged Doors – These can be automated providing they are made with a durable chassis construction.
Canopy-Style Up and Over – Hormann and wooden garage doors such as Garador are the only styles of canopy door suitable for automation. A common mistake is to omit the canopy bow arm converter, but the door won't work without this.
If you're unsure if it's possible to convert your garage door, or you have any sort of canopy door, it can be beneficial to speak to an industry professional who can advise you.
Choosing a new garage door?
Explore our range of leading garage door manufacturers. We'll help you to choose the right door for your home.
Search Garage Doors
What to Look for When Choosing a Mechanism
There are various mechanisms to choose from when shopping for a garage door opener, and it can be difficult to know where to start. We've outlined the key features to look out for below to help you make your decision, based on your specific needs and the type of garage door you have.
Safety Features
When you're dealing with an electronic operator, safety should be your number one priority. Garage doors are heavier than most people realise and they can be a hazard if you don't have the correct features in place, such as automatic stopping if the door is obstructed.
The UK now has safety regulations in place to ensure that door operators should, at the very least, have a power surge system to stop and immediately reverse if the door hits an object. Any garage door without this system in place requires the addition of a 'break beam' device or a pressure-sensitive sensor to ensure your safety.
Bear in mind, this is an additional cost, and these features can be difficult to install, so it's a better investment to choose a garage door with a self-learning safety mechanism.
Your garage door operator should also have an emergency release mechanism that makes it easy to disconnect them from the inside. This is achieved via a cord that releases the towing arm so you can manually open the door in the event of a power outage or damage to the door. Be aware that in smaller garages, this might make it difficult to access the towing arm cord if the vehicle is inside, so consider the space you have available.
Security
In addition to safety, you want to ensure your garage is securely protected against unauthorised access and criminal activity. Electric operators have a rolling code remote control system to safeguard you against the risk of someone copying your security code and using it to access your garage.
But you also need to ensure the door itself is secure. Basic garage doors are typically secured by a towing arm at the top of the door, which is all that's locking a basic installation in place. This makes it easy for someone to force the bottom of the door and break into your garage.
Adding extra devices, such as a de-latch mechanism which uses a manual lock alongside the electric opener, will deliver a stronger locking system. It's easy to install and will elevate an older door into something more durable and secure. For example, if you have a Hormann sectional-type garage door, you can integrate a steel latch into the towing carriage which provides a physical lock even when the garage door motor is in emergency override mode, as well as extra resistance.
Motor Power
There are a range of electric operators to choose from, but we recommend that you choose an operator that is capable of lifting more than the force required to shift the door. This way, you're not putting too much pressure on the mechanism every time you open or close the garage door, which will result in a longer-lasting opener.
In order to choose a motor that can cope with the weight of your garage door, we recommend that you gather as much information about the door you have as you can. You can also contact our team for advice.
Belt and Chain Drives
Most manufacturers offer a choice of belt or chain drives. Belt and chain drives are two types of mechanism used to operate garage doors, designed to transfer power from the motor to the door, allowing it to open and close smoothly and efficiently. Both options will work well providing they are of good quality and have auto-tensioning
A belt drive uses a rubber or synthetic belt to connect the motor to the door. The belt is typically more expensive than a chain, but it runs more quietly and requires less maintenance. This makes it a popular choice for residential garage doors.
A chain drive, on the other hand, uses a metal chain to connect the motor to the door. Chains are typically louder and require more maintenance than belts, but they are more durable and can handle heavier doors. Chain drives are often used in commercial or industrial settings where heavy-duty doors are common.
Operator Boom Length
If you have a ceiling-mounted boom operator, there are various lengths to choose from to suit different door heights. Most standard operators are capable of lifting a door up to 7 feet high – anything higher than this, you'll need to be sure that you've got the right length in order to fully open the door. Roller garage doors work with fewer options and are usually used with adapter kits.
Controls
One of the primary reasons for choosing automated garage doors is having remote control over the door itself. But there are more methods of accessing your garage than just hand-held radio transmitters, including internal pushbuttons, digital keypads and finger scanners. Some electric operators also have built-in timers for automatic closing. Another feature of electric openers to look out for is soft start and stop motors, which are beneficial if you have a particularly heavy garage door, as they're quieter and smoother to operate.
Power
Modern electric operators tend to have an efficient low-voltage DC motor, and because they operate for such a short amount of time, you don't need to worry about the amount of energy they use. However, if you're conscious of the energy consumption when the motor is on standby, choosing a low energy transformer can provide you with great savings in running costs, with the added benefit of being quieter.
Added Extras
As well as the features of the electric opener itself, you need to consider the availability of spare parts for future repairs, as well as the guarantee for peace of mind. Most garage door electric openers come with a 5-year guarantee and 2 years on remote controls.
How Much Does an Electric Opener Mechanism Cost?
The price you'll pay for a high-quality mechanism depends on how many functions you want or need, and the size of the door. For a basic electronic operator fitted to a lightweight retractable door, you can expect to pay around £150, while an operator with more function and power may cost upwards of £200. Larger double door garages or sectional doors are likely to cost in the region of £280. You will also have additional the installation costs.
Conclusion
Investing in an electric opener for your garage door provides you with a host of benefits, from added security and convenience to the seamless operation of opening and closing heavy garage doors and higher levels of safety to prevent accidents and injuries.
The team at Wessex Garage Doors are happy to offer advice and guidance when it comes to switching to an automated opener – contact us today to learn more.