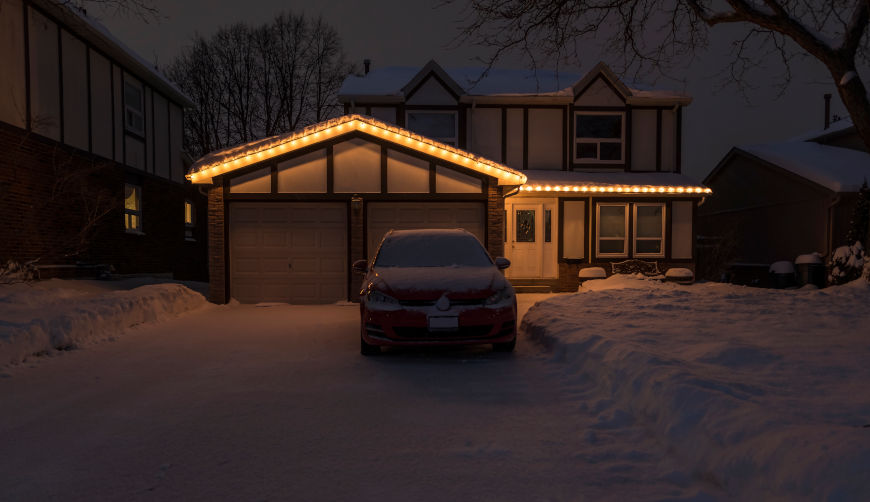 Love it or loathe it, Christmas is just around the corner and that can only mean one thing: it's time to get festive!
There's no better way to show off your love for Christmas than through an abundance of festive decorations. Whether it be a fully decorated Christmas tree inside or a huge plastic Santa outside, there are so many ways to easily spread your festive cheer.
One area to think about decorating in particular is your garage door. These large external doors provide effectively a blank canvas for creativity over the festive period, and offer many options for decorative designs. Regardless of whether your garage door is automated, sectional or roller, if you're stuck for ideas, here are four great ways to add a festive touch to your garage door.
1. Lights
What would Christmas be without twinkly fairy lights? If you've already decorated your tree and have some lights left over, you can always hang them on the outside of your garage door instead. Whether you hang them in lines or create your own festive design, adding lights can transform your door and make it a showpiece of the neighbourhood.
One quick side note though; it's important to make sure that the lights you use are waterproof and suitable for outside use. Otherwise, they might not last very long in the chilly winter weather.
2. Projector
If you want to really show off to your neighbours this Christmas, why not think about investing in an outdoor projector?
As the days get shorter over winter and the evenings become darker earlier on, your garage door becomes the perfect screen to project festive features onto. This gives your home a real 'wow' factor, stopping people in their tracks to stare admiringly at your high-tech decoration.
From sporting events to creating your very own outdoor cinema, investing in a projector could also prove cost-effective over the long-run, since you can use it all year round.
3. Stickers/Magnets.
If you'd rather avoid going all out on huge Christmas decorations, it is perfectly possible to decorate your garage door on the cheap as well. Using a combination of stickers and magnets, you can transform your garage door into whatever you like – whether it be a snowman's face, a personalised message, or a colourful winter scene.
These types of decoration may not give the same level of 'wow' factor as a projector or set of bespoke lights, but they will offer a personal touch that brings even more festive cheer to your home and the surrounding neighbourhood.
4. Murals
If you have an artistic side, creating your own banner or mural can really show it off. Whether you paint a wintery design straight onto your garage door, or display an already-produced sketched design, adding a slice of winter to your garage door can really help bring your home into the festive season.
You could even think about making the design three-dimensional. This will draw the eye of nearby visitors and make the experience of looking at your garage door truly immersive.
If you are keen to decorate your garage door for Christmas but are concerned about its level of wear and tear, here at Wessex Garage Doors we can quickly diagnose and repair any potential issues. After all, by decorating your garage door for Christmas, you will be making it stand out to the neighbourhood. Therefore, it's important for it to be secure against the potential threat of burglars.
For expert advice on how to ensure your door is secure, please do not hesitate to contact our friendly team today.