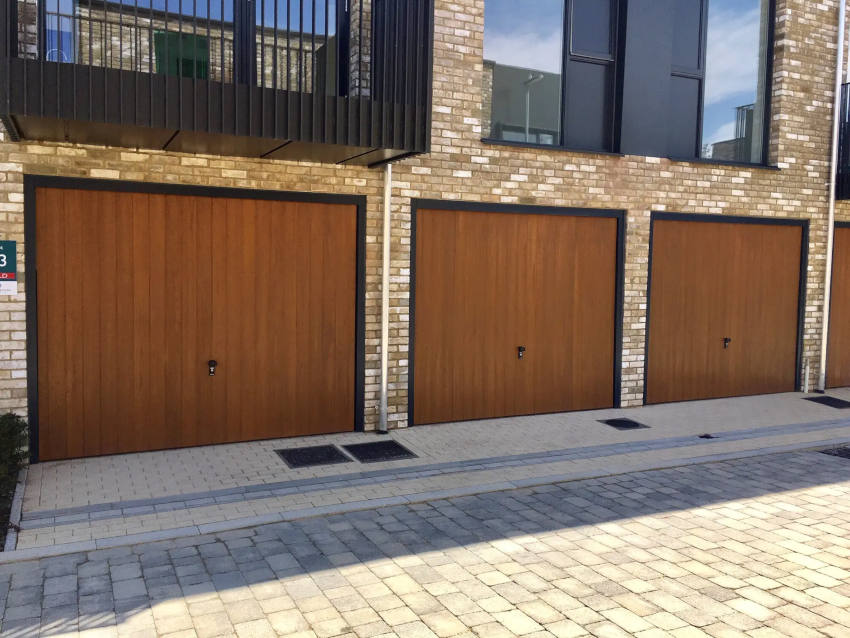 Automation makes our routines so much easier and quicker, and it can be applied to your garage door too. But what benefits can an automated garage door provide, and do they deliver greater security? Here's our complete guide to automated garage doors and what to consider before buying one.
The benefits of automation
The primary benefit of switching to an automated garage door is the ease of operation and convenient it supplies. On a rainy or snowy day, when you want to be sheltered from the elements as much as possible, having a garage door that opens at the press of a button rather than manually is a great relief.
But security is also another benefit that you can enjoy when you have an automated garage door as the motor acts as the locking mechanism. Automated doors are available in a range of styles so you can find the look that works with the rest of your property, as well a host of control options, such as keypads, smartphones or remote controls.
Can existing garages be automated?
It is possible to automate a manual garage door, as long as the door you have in place is still functional and in a good condition. Electric openers are cost-effective and can be incorporated fairly easily by a professional. However, it depends on the type of door you have and the age of the door as to how successful it would be to automate. If the garage door you have in place is very heavy, it could be easier to upgrade your existing system to a new automated door.
Most modern garage doors which are from leading manufacturers can be automated, whether you have roller door, sectional or an up and over style door. But it does depend on the model – if you've had your door in place for many years, you may need to do some research into the specific type of door you have to ensure the operation works with automation.
However, a canopy style door can be harder to automate, although not impossible. Likewise, if your garage is detached from your property, you may have to link it up to the power supply in order to use an automated door, although an integrated garage will be connected to the electricity in your home.
Are automated garage doors safe?
Safety should always be a primary concern – garage doors are extremely heavy and can cause injuries if they're not installed or manufactured properly. Electric and automated garage doors are CE marked and meet the necessary safety requirements to ensure they're fit for purpose, so you can be sure that the door you choose is safe.
There should also be a break-beam safety device or safety sensor installed to identify any obstructions to keep you and your family safe. Providing your garage door is installed by an experienced and qualified professional, you can rest assured that the system will function properly and be safe to use each day.
How secure are automated garage doors?
Garages are a common hotspot for thieves, as they often hold expensive valuables such as your car or electrical tools. They can also provide access to the rest of your property in many cases, so you want to ensure that the door is truly secure against a break-in. The key to making sure you've got a secure garage door is choosing a reliable manufacturer that's durable and has been fully tested to prevent the door from being forced open from outside.
Choosing a new garage door?
Explore our range of leading garage door manufacturers. We'll help you to choose the right door for your home.
Search Garage Doors
Final thoughts
From safety and durability to convenience and style, automated garage doors provide a wealth of benefits. Whether you have an existing manual garage door you want to convert to be automated or you want to install a new door and are looking to upgrade to a more convenient option, there are options to suit every property.
At Wessex Garage Doors, we work with the UK's leading manufacturers and our skilled team of fitters will ensure your door is installed professionally and safely. For advice on investing in an automated garage door, contact our team and we'll get back to you as soon as possible.