NEW GARAGE DOORS
Excellent, very efficient and answered any questions so I fully understood the answer. Very pleasant operator.
The workmen were polite and quickly did the job, tidied up after them and took the old door away. Before they left they gave a demonstration of how the door operated.
I contacted Wessex Garage Doors following a referral by a neighbour. Their product knowledge, pricing and installation was first class. I am so pleased with my new electric garage doors!
We were very pleased with the efficient and friendly way our order was handled, the door arrived on time. We are very pleased with the appeared and working of the door.
Automatic Garage Doors
In terms of enhanced home security, luxury and sheer day-to-day convenience, automated garage doors are hard to beat. Whether you are looking to add automation to your existing garage door, or are looking to upgrade your home with a brand new electric garage door, Wessex Garage Door should be your first port of call.
Wessex Garage Doors can supply, install and service electric garage doors and automated opening mechanisms at realistic prices. In the vast majority of cases, our technicians can also fit electric door openers to an existing garage door, as a more budget friendly option. Call us today on 01737 309103 or 0800 161 3733 for details.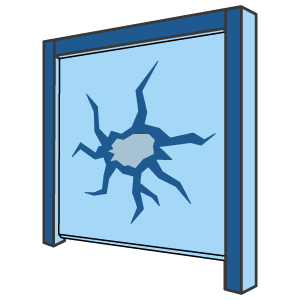 Garage Door Repairs
We provide a comprehensive service here at Wessex Garage Doors in Horsham, and this includes our complete garage door repairs service. Whatever the problem with your garage door may be – damaged locks, temperamental opening mechanisms or stiff runners – you can rely on our dedicated team of experts to provide swift, effective repairs. We stock an extensive range of replacement parts, meaning we can assist you quickly to restore your door to its full working order in no time.
For garage door installations and repairs in and around Horsham, give us a call at Wessex Garage Doors today for more information!
Why Wessex Garage Doors?
Wessex Garage Doors is an established and reliable garage door company, offering a host of products and services to customers in Horsham and beyond. Our dedicated team will come to your property swiftly and at a time most convenient for you, offering their skill, technical ability and wealth of experience, performing premier quality garage door installations.
Whatever your individual requirements, our extensive selection of garage doors ensures that we will have a perfect solution for you. Choose from a wide range of high-quality garage doors – including up and over, sectional and roller garage doors. We only source our doors from the best, most established manufacturers. The finished result guarantees complete protection, whilst also complementing the aesthetics of your home.
FAQs
Are you able to dispose of my old garage doors?
If you would like our technicians to remove your old garage door and dispose of it safely, in preparation for a new garage door installation by Wessex Garage Doors, we will be more than happy to help. A small additional fee will be charged for this service.
How do I correctly measure the opening for a DIY garage door installation?
If you wish to install your own garage door, you need to measure the width and height of the structural opening, taking into account that there may be variations across the space. To get the most accurate measurements, take readings at the left, centre and right edge, then the top, middle and bottom of the aperture. Always use the smallest of the width and height measurements, so that your new door will fit snugly into the opening.
How often should I have my garage door serviced?
Assuming that your garage door is in regular daily use, it is highly recommended that you have it serviced at least once a year to ensure the door remains in top condition. At Wessex Garage Doors, we offer regular service package options as well as a bespoke service plan when you purchase your new door with us.
Garage Door Installations in Horsham
Before & After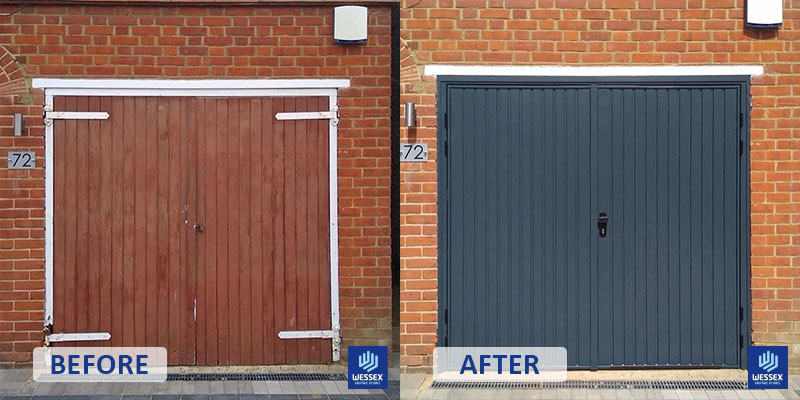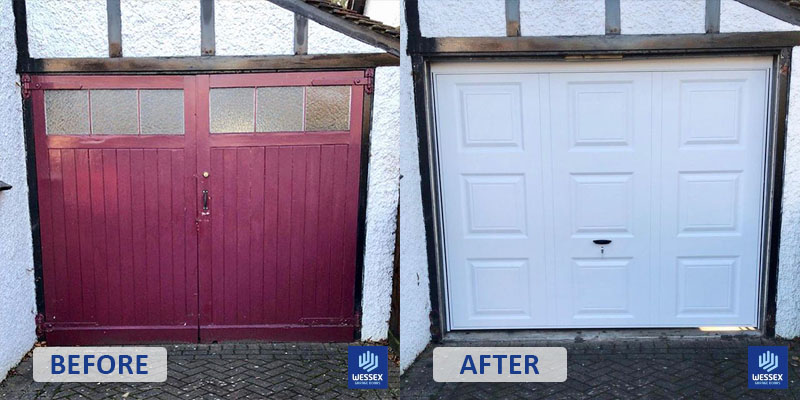 Follow Us On Instagram To See Our Recent Installations