Shop for a new garage door
Excellent, very efficient and answered any questions so I fully understood the answer. Very pleasant operator.
The workmen were polite and quickly did the job, tidied up after them and took the old door away. Before they left they gave a demonstration of how the door operated.
I contacted Wessex Garage Doors following a referral by a neighbour. Their product knowledge, pricing and installation was first class. I am so pleased with my new electric garage doors!
We were very pleased with the efficient and friendly way our order was handled, the door arrived on time. We are very pleased with the appeared and working of the door.
At Wessex Garage Doors, we've worked with numerous clients across Sussex, supplying an extensive collection of garage doors.
Not only do we supply a wide range of garage doors, but our team also provides an expert fitting service as well as garage maintenance and repairs. Working with manual and automatic installations at all kinds of property, our team use their extensive knowledge to provide an efficient, reliable service to every one of our customers.
See our most popular garage door types below, including sectional garage doors, wooden garage doors and automated options. You can also see our manufacturers page for more details about the high-quality brands we supply, or contact us if you are looking for something specific.
Electric Garage Doors
Automated garage doors are high-end home solutions that come with a wealth of benefits, such as better home security and greater day-to-day convenience. Operated via a remote-control handset, security locking is offered as standard with our automated doors. If you are considering this option for your Eastbourne home, our knowledgeable team is happy to talk you through all the options.
Wessex Garage Doors can supply, install and service electric garage doors and automated opening mechanisms at affordable prices. In most cases, our technicians can also fit electric door openers to an existing garage door, as a more budget friendly option. Call us today on 01737 309103 or 0800 161 3733 for more information.
Are you looking for a new garage door for your property in Eastbourne? With over 30 years in the business, Wessex Garage Doors is one of the largest garage door companies in the South East. We specialise in supplying, fitting and servicing all types of garage doors in Eastbourne, Sussex and beyond, from wooden and steel doors to automated or up and over doors. We have an extensive selection of doors for you to consider, and can provide expert advice to help you make the right choice. Contact us today to find out more.
Better still, why not pop along to our large showroom on the Surrey/Sussex border where you will find a variety of fully operational garage doors on display, including up-and-over garage doors, roller garage doors and sectional garage doors in materials such as steel, GRP fibreglass and traditional timber. Whether you are looking to upgrade a modern new build home or a period property, we are confident that you will find the right solution at Wessex Garage Doors, and at a price that you will love.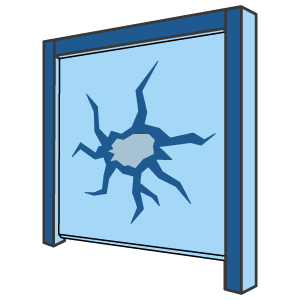 Garage Door Repairs
Have you noticed a problem with your garage door? Perhaps you've spotted a scratch or dent, or the door no longer operates smoothly. Maybe the lock has failed? Whether the issue is structural, cosmetic or electrical, the service and repair team at Wessex Garage Doors can help.
We are one of the leading companies along the South Coast and the South East for garage door repair work. We keep a full range of replacement spares and accessories for premium brands in stock, and our expert team of specially trained engineers will come out quickly to repair call-outs in the Eastbourne area, dealing with any issue you may encounter with your garage door to resolve it as quickly as possible.
Why Wessex Garage Doors?
We are a proud family business with over 30 years experience providing premium quality garage doors for properties in the South East. We work with all the major garage door manufacturers in the business, including Hormann, Garador and Novoferm, to mention just a few.
Customer satisfaction is very important to us. We are known as a complete garage door company, offering much more than just the sale of a new door. From expert advice and guidance to free home surveys, full professional installation to comprehensive after sales maintenance and repair services, we are committed to ensuring that you will get the most out of your garage door. Take a look at our testimonials page to see the many glowing reviews we've been delighted to receive.
A garage door is a great investment into your home, and you will be spoilt for choice when it comes to selecting the best door for your home. Why not take a look at our Buyers' Guide to get you thinking along the right lines, and visit our online gallery for inspiration?
FAQs
Are you able to dispose of my old garage doors?
If you would like our technicians to remove your old garage door and dispose of it safely, in preparation for a new garage door installation by Wessex Garage Doors, we will be more than happy to help. A small additional fee will be charged for this service – contact us for more information.
How do I correctly measure the opening for a DIY garage door installation?
If you wish to install your own garage door, you will need to measure the width and height of the structural opening, taking into account that there may be variations across the space. To get the most accurate measurements, take readings at the left, centre and right edge, then the top, middle and bottom of the aperture. Always use the smallest of the width and height measurements, so that your new door will fit snugly into the opening.
How often should I have my garage door serviced?
Assuming that your garage door is in regular daily use, it is highly recommended that you have it serviced at least once a year to ensure the door remains in top condition. At Wessex Garage Doors, we offer regular service package options as well as a bespoke service plan when you purchase your new door with us.
Garage Door Installations in Eastbourne
Before & After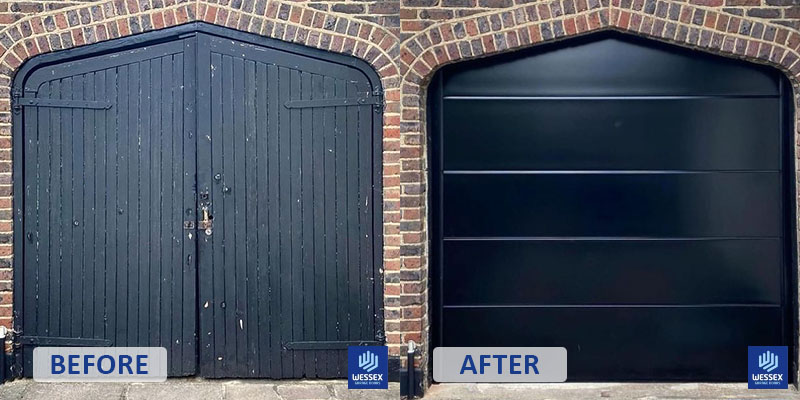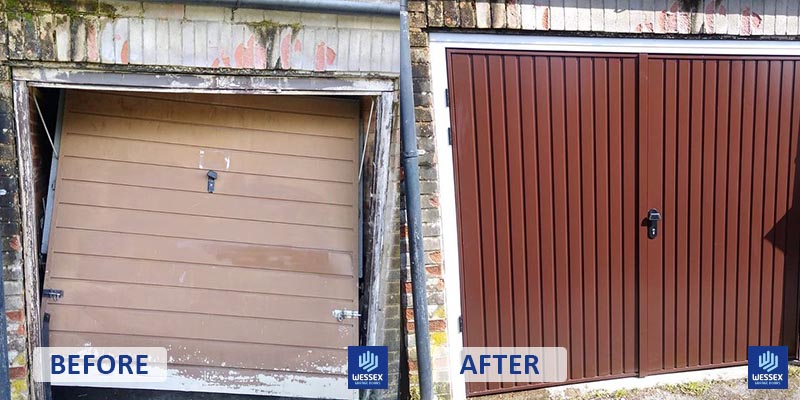 Follow Us On Instagram To See Our Recent Installations