If you're thinking of having a new garage door installed one of the first questions you'll need to answer is about the material. The majority of the garage doors we sell are either steel or wooden and in terms of functionality, there is little to choose between them. Both wooden and metal doors can be automated and additionally both will look fantastic. However, there are some important differences between the two. Here are some of the advantages of wooden and steel garage doors.
Why choose a wooden garage door?
One of the reasons that wooden garage doors are most often chosen is because they bring a luxurious appearance to your home. Wooden doors look stunning and lend an understated elegance to any property – there has been a growing trend for wooden doors to boost the visual appearance of a home, especially running up to a sale. If your house already has wooden features, this can allow your garage to blend in with the aesthetic of the rest of the property.
It's also true that there's no reason to settle for a garage door that doesn't suit you. At Wessex Garage Doors we work with a number of manufacturers who produce a huge range of different doors in a broad variety of colours and grains. You can customise the appearance of your garage door so that it sits beautifully with the rest of the house.
Wood is also a popular material for garage doors because it is sturdy, safe and well insulated. This means that this isn't simply a decision based on looks – your wooden garage door will be just as sturdy as any other material.
Choosing a new garage door?
Explore our range of leading garage door manufacturers. We'll help you to choose the right door for your home.
Search Garage Doors
Why choose a steel garage door?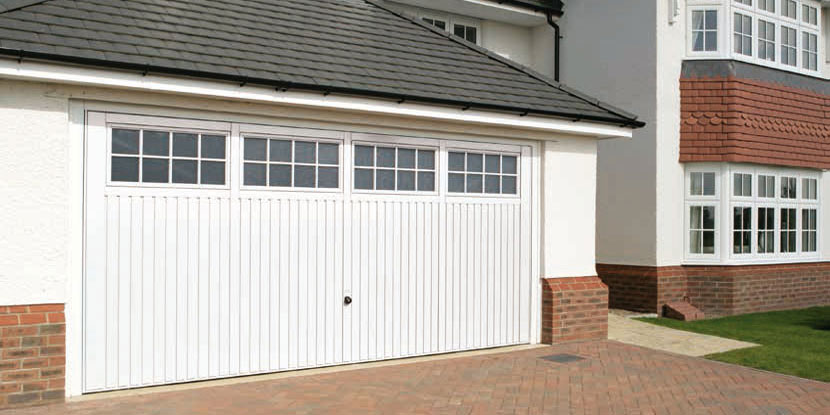 However, it's not always the case that wooden doors are the preferable option. Firstly, in terms of value for money, there's no doubt that steel doors can usually offer a far better price and much lower ongoing costs. Metal doors additionally often suit the appearance of a home far better than wooden doors, and this will depend entirely on the style of your property.
With wooden doors, you need to perform regular maintenance that can include everything from sanding, painting, coating and sealing. Metal doors are generally more durable and as such they require this sort of treatment far less often than wood alternatives. Steel doors are certainly a low maintenance alternative, and are unlikely to suffer any warping or buckling that can be a risk if wooden doors are not maintained properly.
Other options
Another option is to buy a door made in glass reinforced polyester (GRP) or fibreglass. These are virtually maintenance-free doors that are arguably the most able to deal with unpleasant weather. They also offer fantastic value for money. Feel free to contact us today about to talk through the different options available to you. We are always happy to offer impartial advice on garage doors.