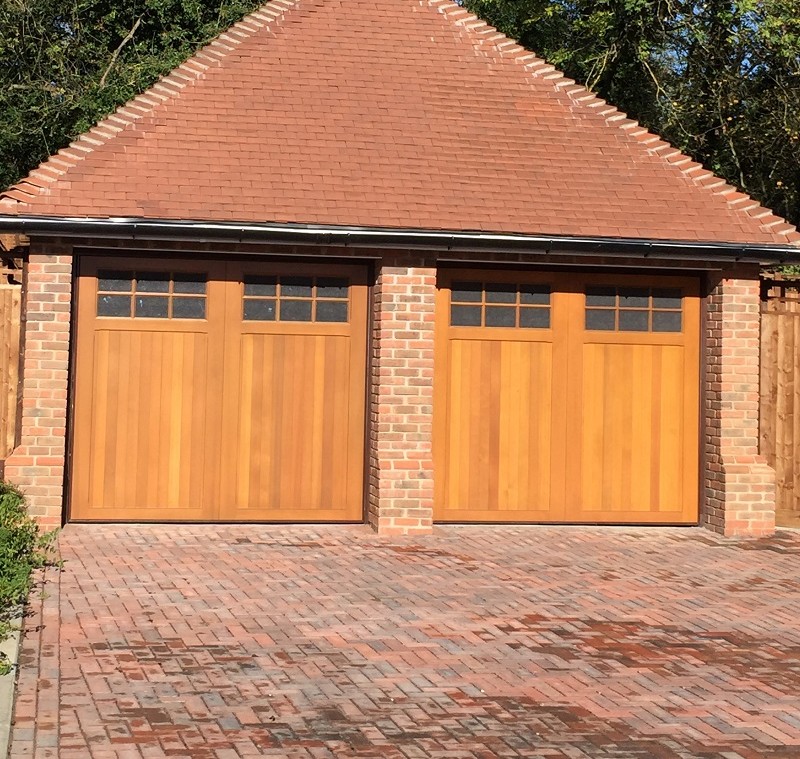 The material you choose for your garage door is dependent on a variety of factors, from the climate where you live to the level of durability you require and how much time you want to devote to maintenance. We've put our expertise to work to showcase some of the most popular, efficient and cost-effective materials when it comes to choosing a garage door, so you can make the right choice for your property.
Low maintenance materials
For a low-maintenance solution, steel garage doors are a great choice – they're lightweight, easy to maintain and they deliver excellent durability. Steel is a long-lasting material that ensures your investment is going to stand the test of time, and there are various styles of steel door to choose from, so you can find the right aesthetic that works with your property, whether it's your home or a business property.
One disadvantage of steel as a material is that is can be susceptible to corrosion. If you live in a coastal area where salt can pose an issue, simply washing your steel door regularly to remove dirt and salt build-up can improve the longevity of the door considerably. GRP garage doors, or fibreglass garage doors, are also low maintenance and can closely mimic the look of other materials, such as wood, without the risk of the material cracking or warping over time.
Materials suited to your climate
Climate and environmental factors play a big role in the material you choose. As we've discussed, property owners in coastal areas need to be cautious of the material they choose as this can lead to damage if you don't pick wisely. Windier or colder locations will face similar issues.
Fibreglass works well in coastal areas where salt can be an issue, as it's resistant to this, but it's a particularly great material for milder and warmer areas. For windier locations, steel is a great choice as it's hardwearing and resilient, plus it's ideal for minimising the noise that can come with some lighter materials. If you live further inland, such as in a city location, you have more flexibility in terms of the material you opt for as your property will be more protected against the elements.
Choosing a new garage door?
Explore our range of leading garage door manufacturers. We'll help you to choose the right door for your home.
Search Garage Doors
Aesthetic garage door materials
Your garage is an extension of your property as a whole, so it's important that it looks great as well as being practical. For an aesthetic touch, wood garage doors are the perfect option. Wood is a classic garage door material that comes in a range of styles, colours and finishes, can be painted and repaired easily, and looks elegant and sophisticated. The grain patterns and textures lend a unique touch to your garage and really elevate this area of your home for added kerb appeal.
Wooden garage doors also work wonderfully with a wide range of home styles, from classic and traditional properties to modern homes and businesses. Wood is durable and makes for a heavier garage door, but it does require more maintenance than other materials, so bear this in mind if you choose a wooden door for your garage. For a modern look, GRP and aluminium doors are great for mimicking the look of wooden doors but are lighter and easier to maintain, so this can be a great compromise if you want the visual appeal without the upkeep.
Budget-friendly materials
Budget is a key consideration for the garage door you choose, and there are materials to suit everyone. Steel and GRP doors are cost-effective and work well if you have budgetary constraints but still want a beautiful, long-lasting garage door. Wood is the more expensive option, but it delivers a striking finish and, when well-maintained and cared for, will deliver many years of enjoyment. Likewise, aluminium offers similar properties to steel but is on the higher end of the spectrum in terms of cost.
A garage door not only offers kerb appeal and visual interest to your property, but it's also a practical feature, so the material you choose is important. From the natural beauty of a wooden door to the strength and durability of steel and the low-maintenance, lightweight properties of GRP, there's plenty to consider. Each material has its own set of strengths and weaknesses, so we recommend taking all factors into account when looking for the best door for your needs, from how much you want to spend and the level of upkeep you want to provide, to the look you're hoping to achieve and the location of your home.
If you'd like further advice when choosing your garage door, look no further than the team at Wessex Garage Doors. We have a wealth of experience in all types of garage door, from different materials to styles, so we're well equipped to offer guidance in choosing the right door for your property – call us today.