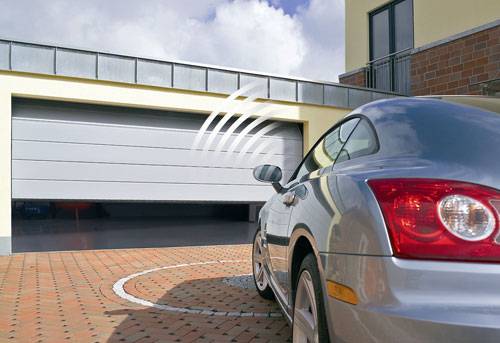 The garage is undoubtedly an important and sometimes undervalued part of your home. This versatile space is often used for much more than just storing your things – it can be an additional room for your home, as well as a useful storage space. It is important, then, to have easy access to your garage to allow you to make the best use of it.
At Wessex Garage Doors, we offer a wide range of garage doors, but one of our most popular options is having an electric garage door.
Choosing a new garage door?
Explore our range of leading garage door manufacturers. We'll help you to choose the right door for your home.
Search Garage Doors
Having a remote-controlled door can make it much easier for you to use your garage to the full extent and enjoy it all year round. So, what are the major benefits of choosing an electric garage door?
Open the garage without leaving your car – with a remote control, you can open your electric garage doors without having the leave the comfort of your car. Just press the button and drive straight in.
Safe to use – electric garage doors are always safe to use as they have sensors in place to prevent the door from closing if anything obstructs the doorway.
Highly secure – electric garage doors lock in place and hold the door shut to prevent any kind of forced entry being possible.
An expanded lifespan – the lifespan of your garage door is actually extended by an electric opener, as this reduces the strain on the mechanism of the door.
An electric garage door can be the perfect choice for anyone who struggles to open a standard garage door, which can become more challenging and straining to lift up. The door's remote control allows anyone to open the door at the simple press of a button, giving you access to the garage space.
You might not be aware that electric garage door mechanisms can be added to your current garage door. It is therefore not always necessary to invest in a new garage door in order for gain the benefits of an electric garage door.
If you would like to learn more about electric garage doors, the team at Wessex Garage Doors would be happy to help. We have years of experience providing electric garage doors to customers.