As the nights draw in, it is extremely important to consider the darker side of these darker evenings. Crime statistics show that during the winter months, thieves take advantage of poorly protected homes and garages by breaking and entering to steal the items inside. The garage is one of the most common break-in points for homes as they are typically low security despite containing very valuable possessions. So, is it time to upgrade your garage security?
Regular Locks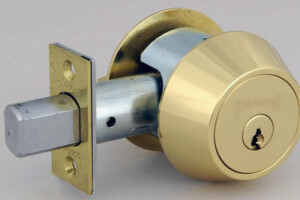 There is an extensive range of specially-designed locks and security items available on the market today, all of which can be fitted by any capable DIYer! Bearing in mind the major role that a securely locked garage plays in the overall security of your property, careful consideration needs to be made to determine which of the following options best suit your requirements…
Side door bolts are commonly used for most garage door designs, making them a popular choice amongst homeowners. They are installed on the inside of the garage door which makes it much harder for the intruder to tamper with as it is not visible from the outside, deterring burglars.
Deadbolt locks are ideal for entry doors in your garage, providing extra reinforcement for the door itself. For an extra level of security, this secure locking mechanism uses keys to complement the doors. This deadbolt lock style takes a considerable amount of effort to move without the key which discourages intruders from attempting to break in.
T-Handle Lock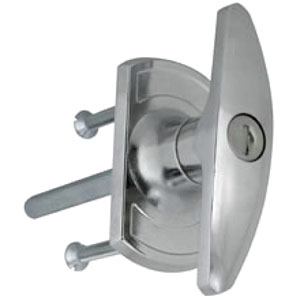 The T-Handle lock is most commonly used on metal garage doors. The handle that operates the lock is a T-shaped design which gives the lock its name. T-handle locks do not use conventional keys as the locking system, rather it uses a cylinder-shaped key which is essential to operate the handle and difficult to reproduce.
Garage door mortice locks are better suited to wooden garage doors, generally used for thick door designs where bolts are not an option. The locks are fixed to both sides of the door with a deadbolt locking mechanism for total protection, suiting your requirements and the design of the door.
Garage Door Defender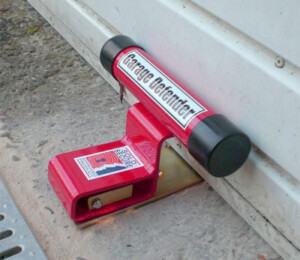 Hardwearing garage defenders provide additional security for up and over garage doors. The lock comprises a large arm which sits in front of the door and is locked to a concrete base by means of a padlock. The defenders arm is then placed on top of the base, restricting any movement of the door. This provides a highly effective way to secure a garage while offering excellent visual protection.
Advanced technology is utilised to produce electronic locks, as a fingerprint is used rather than a key to open and lock the door. The state-of-the-art system supports multiple fingerprints, which allows you to determine who gains access to the property. Despite being a rather costly option, electric garage door locks are one of the most secure, proving to be a worthwhile financial investment given the security enhancement they give to your home.
Keyless Locks
Keyless digital locks are another garage door lock design which operates to an exceptionally high standard without the use of keys. To gain access to the garage, simply create an entry code which you type into a keypad; this will deter intruders as they cannot damage the system or predict the password you have set, providing a very high level of security.
Finally, if your home is protected by an alarm system, this could be easily extended to cover the garage as well. Door sensors can be placed on the garage door as well as side or rear pedestrian entry points. Wireless alarm systems offer excellent protection with easy installation – just remember to disable the alarm before accessing the garage yourself!
—
Brought to you by Wessex Garage Doors
With over 25 years' experience in the industry, our expert team of garage door engineers here at Wessex Garage Doors are fully trained in quickly repairing any damage or fault, to restore your door back to top working order as fast as possible. Safety is of the utmost priority, which is why it is extremely important to address any faulty locks or handles as soon as you notice them.
We stock a comprehensive range of premium quality garage door spares and replacement parts from leading manufacturers and brands. From springs, cables and rollers to locks, handles and remotes, we are always on hand to provide you with the best equipment available.