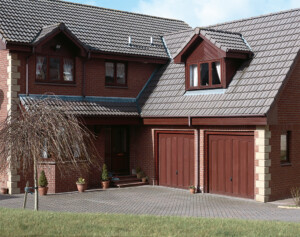 Garage space is a beneficial feature of any home and is routinely utilised for parking, storage or home projects. For a safe garage area, Wessex Garage Doors wants to make sure you and your family know how to operate and look after your garage door correctly.
The size and weight of the door can be highly dangerous and, as it is typically used every day, it is important that safety takes precedence and that it is kept in proper working order. Please read our following practical tips to successfully maintain your garage door…
Our Top 10 Tips
Mount the garage door opener control button at least five feet from the floor, ensuring it is out of the reach of small children. Do not let children play with garage remote controls, as this can be very dangerous if misused.
Explain the dangers of placing fingers between door sections to children to avoid the risk of injury. If you have small children, it is probably worth considering a door with panels that can't pinch.
Children should never stand, run or play under or near any garage door, especially when the door is open or moving. Therefore, set a good example to children and never stand or walk under a moving garage door.
Do not leave the garage door partially open, as when it is activated again it may drop downward and fall into anything that is in its path. The security of your property is also compromised by leaving the door open.
Consult the owner's manual to learn how to use the garage door's emergency release feature.
Ensure the garage door is properly maintained to keep it operating safely. This can be achieved by inspecting the garage door each month, checking the springs, cables, rollers and pulleys for signs of any wear.
Do not attempt to adjust or repair any garage door problems yourself as the parts are under extreme pressure so should only be dealt with by a trained door repairman to avoid extreme injury, or even death. Annual maintenance by a trained service technician is also recommended.
If someone collides with your automated garage door, it's advisable to have the door inspected and repaired, if necessary, by a professional. Even if the door doesn't appear damaged, the operating system may have become misaligned creating a possibly dangerous environment.
Remember that if your garage door opener uses electricity, all relevant services should be performed by a trained service technician. This is to eliminate any risk of serious injury.
Test the garage door opener's reversing mechanism monthly by placing an object in the door's path. If the door does not open after making contact with the object, call a qualified garage door professional for repair.
We offer an extensive range of first rate garage doors here at Wessex Garage Doors, for highly competitive prices across the South of England. With more than 25 years' experience and a team of highly trained garage door engineers, we are also fully qualified to quickly repair any damage or fault with your door.
For more information on our selection of garage doors or the repair services we provide, simply get in touch with our friendly professional team today.