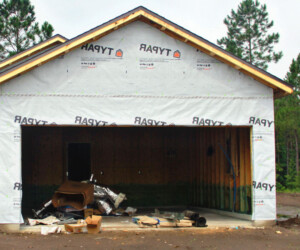 While many homeowners still use their garage as a place to store their vehicle, more and more are also choosing to utilise this extra space for a number of alternate purposes, including:
an extra family room/playroom
music room
workshop
gym
Whatever you have chosen to use your garage for, soundproofing provides a quick and easy way of making your hobby much easier to live with, without disrupting neighbours or surrounding properties.
Whether your garage is situated in a quiet neighbourhood or attached to your home/coach house, thorough soundproofing will prevent any structure or airborne sounds from disturbing the surrounding area.
Hard surfaces will reflect sound waves reverberating within the garage, while soft surfaces absorb the noise. With this in mind, it's important to invest in the correct materials to help control sound, with softer materials proven to minimise sound echoing throughout the room. Acoustic insulation can be easily nailed or glued to walls to provide high performance soundproofing without compromising on space. Carpeting is also a popular choice for soundproofing, so you can revamp the style of the room as well as increase it's insulation qualities.
Finally, inspect the interior of your garage to check for any holes, cracks or gaps and make sure these are filled as quickly and efficiently as possible to prevent any unwelcome sounds escaping.
Soundproofing your garage door
Whether you have chosen to convert your garage or keep it as it is, if the door is still used regularly you must try to reduce the volume of the door opening/closing as part of the soundproofing process.
During operation, a garage door will pass sound so easily that trying to contain the noise can be a rather challenging task.
Noisy garage doors are typically caused by:
worn rollers
loose hardware
parts that need lubrication
Each of these problems can be easily fixed to ensure a quieter garage door with minimal downtime or disruption.
Our experts at Wessex Garage Doors recommend:
tightening all parts including nuts and bolts so they are secure and functional
inspect the door checking for any worn parts and replace where needed as soon as possible
spray all moving parts with specialist garage door lubricant
When inspecting the door, it's important to check the opener to see whether anti-vibration pads need to be fitted to help reduce noise and vibration. This easy-to-install solution not only helps to cut down sound levels, it also provides high quality insulation and is moisture-resistant for superior performance.
There's an extensive range of insulated garage doors available on the market today which are specially designed for energy saving, noise dampening and thermal purposes.
Want To Know More?
Here at Wessex Garage Doors all our sectional garage doors can be installed with an insulating core made of a thickness of 45mm for optimum convenience and noise reduction.
We specialise in the supply and installation of high performance garage doors, including:
insulated
roller
GRP
steel
To learn more about how your garage can benefit from our quality doors or for professional advice, simply get in touch with our friendly team today.