Garage doors can, with time, become worn and suffer from various problems, but the good news is that they don't usually need to be completely replaced. Replacing an entire garage door is an expensive solution to what can typically be rectified with more convenient and cost-effective repairs or upgrades instead.
There are a number of measures everyone can take to ensure their garage door remains in decent working condition. Regular cleaning will remove the dirt and chemicals that can build up and this simply involves going over the door, springs and hinges with a detergent soap and soft brush. The moisture should then be wiped off. At the same time the springs and hinges should be checked for signs of corrosion.
Beyond Regular Maintenance
If any problems are found it is best to replace the parts as soon as possible rather than waiting for more serious issues to occur. Garage door repair companies can replace springs and hinges quickly and affordably, and using a professional means that the repair will be guaranteed to work reliably and safely.
Lubricants & Oils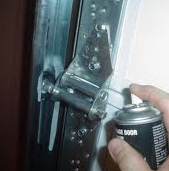 There are other jobs that can be carried out by homeowners, and these include lubricating the various mechanisms on an annual basis. All moving parts should be lubricated, including the springs and hinges, and also the chains and rollers. Specialist lightweight oil is available from garage door repair companies and can be simply sprayed on to ensure the door operates smoothly and cleanly.
There are cleaning products available that are specifically designed for automatic garage doors, so always check with a professional if unsure which product is suitable.
Corrosion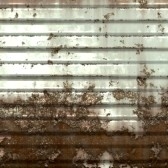 One of the major problems that garage doors can suffer from is a build-up of moisture, which affects the working parts and leads to corrosion. Fortunately, there are measures that can be taken to prevent or minimise moisture build-up before it gets to this stage and the parts need to be replaced. Repainting both the inside and outside of the garage door every three to four years or so will help to keep moisture out. Sealant, available from garage door repair companies, can also be used on cracked paint.
Seals
Professional companies can offer inspections and services to ensure garage doors are maintained in their best condition. It's worth considering an annual service, as this means that any problems can be identified sooner rather than later and also the various screws, bolts and rollers will be tightened so the door continues to work properly. These can become loosened over time with the movement of the door. Astragals, the rubber seals on the base of steel doors, may also need replacing if they are worn or damaged by mice.
Balance
Garage doors should be balanced to work properly. Garage doors that are not properly balanced can potentially be dangerous and also strain the door opener. The cause of imbalanced doors is too little or too much tension in the springs. Repair companies can test the door and adjust the spring tension if necessary, and this is a job that is definitely better left to the professionals for the sake of safety.
Garage door repair companies can also fix problems such as bent garage doors, broken cables, broken springs, misaligned rollers and problems with automatic door openers. There are actually few problems that cannot be solved by repairing or upgrading a garage door, so it is well worth checking before paying out for an expensive new door.