Here we have installed a Carteck insulated garage door in a wood effect colour called 'Night Oak'.
Carteck GSW-40 sectional garage doors have 40mm thick insulated panels, constructed of an outer and inner steel skin separated by a foam filled core, ideal for thermal and acoustic applications. This steel panel construction gives the sectional door tremendous rigidity and strength, these properties combine to give you probably the best security solution in domestic garage doors.
The strength of the sectional door panel itself is augmented by the lifting gear which utilises the fact that the door operates in sections that have at least 10 rollers holding the sections firmly within the track system when the door is locked securely behind the 2 point manual locking mechanism.
When the door is closed it is a fantastic barrier to sound, wind, rain and the cold and also makes for a very secure garage door capable of resistance to attempted forced attacks.
The Carteck sectional door is a perfect solution for larger garage openings, right up to a massive 8500mm wide!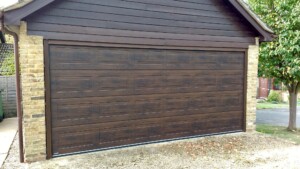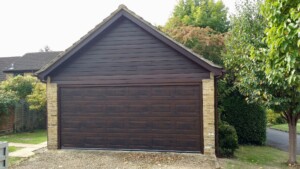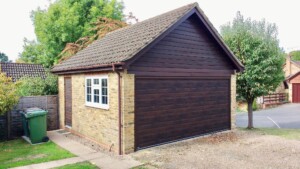 ---