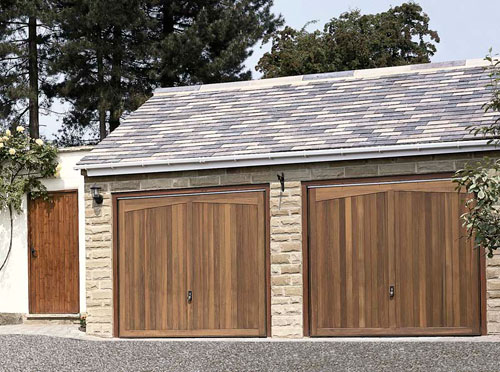 Wooden garage doors are perfect for so many homes. Their natural strength and resilience not only offers exceptional security and great insulation, but the beauty of natural wood provides a unique and appealing finish for every individual door.
They can be a little more costly than steel or GRP, due to the craftsmanship that goes into the construction and the price of the raw materials, but the added expenditure ensures a long lasting, attractive and perfectly functional door.
If you have done your research and decided you want a wooden garage door – there are still a few decisions to make. There's an array of styles, mechanisms and types of wood and finishes to choose from.
Have a read through our guide below to see which options best suit your requirements.
Panel-Build or Solid-Build
Panel built doors are a more cost effective solution to having a wooden garage door. They are essentially a steel or aluminium frame, with a timber garage door panel mounted on, combining the strength and versatility of the sub frame, with the resilience and aesthetics of a beautiful wooden garage door.
Available in a wide variety of designs, from the outside, a panel built garage door would look exactly like a solid built door – but at a reduced price.
A solid built wooden garage door however is a traditionally crafted door, requiring no sub frame or chassis (unless the door is much larger than standard) and provides all the natural strength and resilience you would expect from a solid timber structure.
With a huge selection of styles to suit any home, these doors are built to last and offer a range of benefits that ensure the slightly higher cost is worth it.
Up & Over or Side Hinged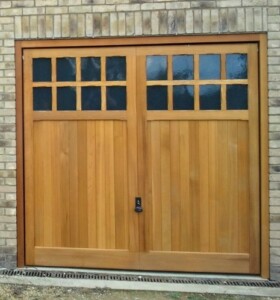 The traditional style for a wooden garage door is a side hinged operating door. Whether you choose a manual door, or you'd prefer an automated system, the side hinged door offers a range of benefits to suit a variety of homes. Usually favoured for larger garages with a longer driveway, as the doors swing outwards, they can cause on obstruction to parking if you don't have much space.
Up & Over wooden garage doors are perfect if you have restricted space as the door simply lifts up and out of the way, leaving you plenty of room for manoeuvring and parking your vehicle. Whether you have a standard size garage, or a larger one, an up and over garage door can be tailored to fit almost any space, providing quick and convenient access.
Manual or Automated
Well-made wooden garage doors should be easy to operate manually as the hinges or lifting gear will take the weight as you guide them open. They generally reduce the cost of your garage door, and the installation is much quicker and easier.
However for the comport and ease that an automatic opening system offers, many people prefer to have them installed with a remote control so they can be opened at the touch of a button, form inside your car! You'll have to invest in a system that can hold the weight of a timber door, and ensure you have safety features built in to avoid any nasty accidents.
Wessex Garage Doors
Here at Wessex Garage Doors, we have an expert team of garage door engineers that can arrange a visit to your home, survey your garage and discuss your needs and lifestyle to ensure your chosen wooden garage door is the perfect addition to your home.
We stock a wide range of brands and styles from the best manufacturers in the market and can offer you the professional advice you need to find your ideal wooden garage door.