Your garage door is one of the largest entrances to your home, and without proper security, it can also be one of the most vulnerable. Even if you choose one of the most secure garage doors on the market, it's always wise to take a few extra steps to overcome any potential weaknesses that could present easy access to your garage, its contents and your home.
Alarm your garage
Extending your house alarm, or having a new one installed in your garage, will quickly deter intruders! The chances of your garage being broken into are significantly lowered, but if someone does decide to takes their chances, they'll get away with a lot less if your alarm is sounding!
Secure adjoining doors
It's essential that if your garage provides access to your home, you keep the adjoining doors properly secured at all times, so if someone does manage to gain access your garage, they can't get into your home too!
Automatic door openers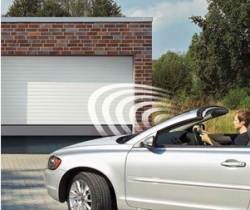 Experienced thieves are using 'code grabbing' devices that will lock onto and memorise the signal, which they then use to access your garage, even if you think it's secured! So make sure your automatic door opener is a modern one, with rolling code technology so it uses a new security number to open the door every time. Contact an experienced garage door company, for professional advice and installation services.
Extra security measures
No matter what style of garage door you have, there are a variety of extra locks you can buy that will provide an additional layer of protection.
A heavy duty hasp and staple, and a good quality padlock, can be used to secure the door to the frame or ground, and there are specially designed garage door defenders that consist of a sturdy metal arm that can be padlocked to the door and bolted into the ground. Both options physically stop the door being forced open – but remember, if you are using a padlock, make sure it's a 'closed shackle' to stop thieves with bolt cutters!
Don't leave the door open
Even if you're home, opportunistic thieves can empty your garage before you even know they're there, and don't forget, it gives them the chance to check out your belongings so they can return when you're not about.
Service and maintain your garage door
Keeping your garage door in the best possible condition is the best way to avoid break ins. If it looks secure and robust, it's less likely that thieves will try their luck, but if it looks shabby and damaged, it will look like an easy target. Check for loose panels, damaged hinges, faulty locks and mechanisms, and rusting or missing screws.
Don't keep your door opener in the car
If you leave your electric garage door opener in the car when it's parked at home and someone manages to access your garage, you're supplying them with the perfect getaway – probably in your car!
It's also sensible to keep your opener on your keys or in your handbag when you go out, so if someone breaks into your car, you're not also giving them access to your home!
Make sure you lock the door!
It may seem obvious, but if you're late taking the kids to school, or in a rush for work, it's easy to forget to press the lock button, and you don't want to leave your garage unlocked, even if you're only popping to the shop, as you never know who's about!
---
If you have any questions regarding your garage door security or servicing, or you want to discuss upgrading your garage door and its security features, always make sure that you contact a reputable company. Wessex Garage Doors have been supplying, installing and maintaining a huge range of doors from a variety of different manufacturers for many years , so whatever your query, you can rely on our expert assistance!