If you have a metal garage door, chances are that it is made out of aluminium or steel. These materials are used for their durability and low maintenance properties, hence their popularity. On the downside, aluminium or steel garage doors can dent easily when you knock into them by accident.
While you may not be too bothered about small accidental door dings, large dents are not only highly visible, they're unsightly. You may be tempted to simply replace the whole door. But before you rush out and spend a lot of money on buying a new garage door, try these few inexpensive and timesaving DIY techniques first to see if you can remove the dent yourself. Or, we can do it for you: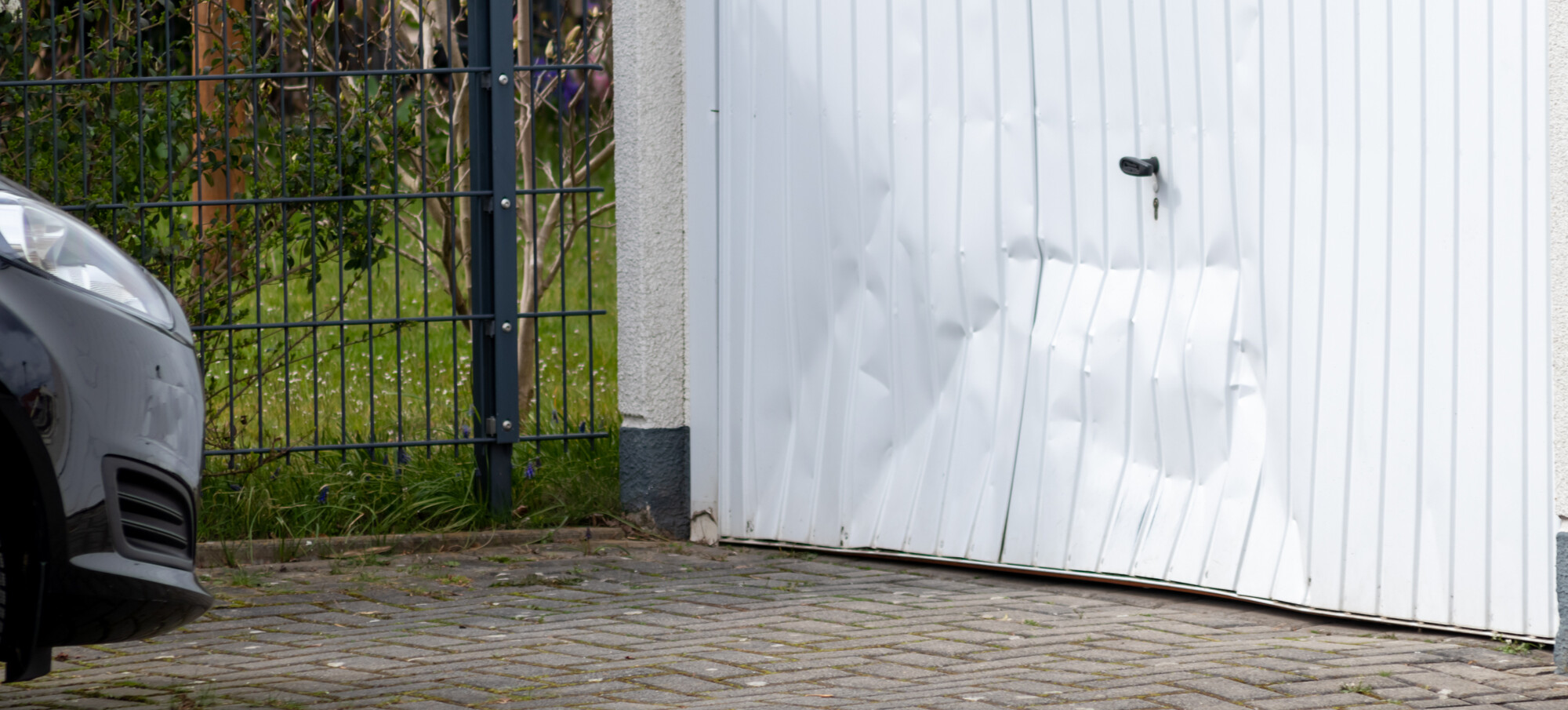 What equipment is needed to fix dented door panels?

Collect together the necessary tools and items for the job. Most of these can be found around the house; the rest are easily available from your local hardware shop:
• Medium sized bucket
• Washing up liquid
• Garden hose
• Large sponge
• Strong aluminium foil
• Standard lighter
• Can of compressed air (such as used for cleaning computer keyboards)
Fixing the dent with heat
Next, follow this step-by-step process to fix your garage door dents:
1. Fill the bucket with warm soapy water and thoroughly sponge down the dented area until all dirt and grime have been removed. Make sure the affected area is completely clean and dry before proceeding to the next step.
2. Cut enough foil to cover the dented area plus extra at both ends to hold on to. Place the foil on the dent to completely cover it, keeping it in place with one hand, then heat the entire area with the flame from a lighter for about 60 seconds.
3. Remove the foil and hold the compressed air can upside down, spraying the dent for 30 seconds. Holding the can upside down can cause carbon dioxide to be released, which is necessary for removing the dent.
4. As a result of the extreme heat differences between the heat from the lighter and the cold from the carbon dioxide, the dent should pop back into place. Within 2 minutes it should have completely disappeared.
If your DIY dent repair has been successful, well done to you! But if it's still there, it's time to call in the professionals. Wessex Garage Doors have 25+ years' industry experience and a vast knowledge of garage doors. Our engineers are fully trained in quickly repairing any fault and restoring your door back to the way it should be. No matter how small or large the problem is, we are committed to providing a first rate service at highly competitive prices. For more information and plenty of free expert advice, call us on 01737 309 103 or message your enquiry here.