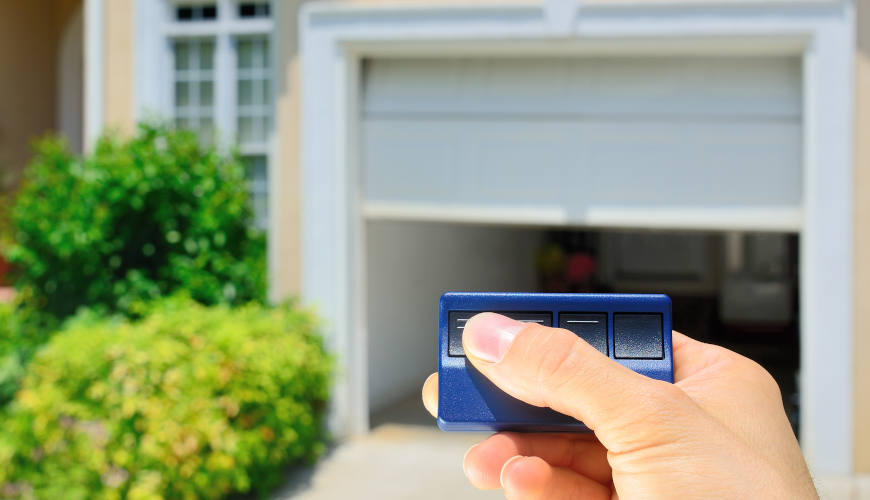 If you are looking to replace your old garage doors at home, you are truly spoilt for choice. New doors come in a variety of styles and materials, so there's no need to replicate the old door exactly. Most post-war homes with garages tend to have up-and-over doors fitted while older properties with a garage tend to come with side-hinged doors. But if you're not keen on either style, there are alternatives.
Have you considered roller garage doors or sectional garage doors – both highly popular among modern home owners? If you're wondering what exactly the difference is between these two styles, and how to choose between them, read on. We've put together the pros and cons of each option to help you make the right decision for your home.
PROS
Sectional garage doors are the ultimate in practicality. They can be installed in virtually any shape or size of garage.
Sectional doors are made of a number of horizontal sections (in timber, steel, GRP or ABS plastic). Individual panels can be replaced quickly and easily in case of damage.
Sectional doors can be customised to your specifications. This includes options for panel height/width, colours and pattern as well as different window options.
Sectional doors are an attractive looking addition to your residential property, improving the kerb appeal of your suburban home.
Sectional doors offer greater home security, compared with roller garage doors. Security locking comes as standard, and automation is available.
CONS
Sectional doors are composed of a greater number of mechanical components, so will require more maintenance than roller doors.
Sectional garage doors have an aesthetic that is perhaps less stylistically suited to urban city areas.
When fully open, sectional doors sit flat underneath the garage roof. For larger garage doors, or commercial applications, this type of door won't be suitable.
In terms of pricing, sectional doors are comparatively more expensive the roller garage doors.
Choosing a new garage door?
Explore our range of leading garage door manufacturers. We'll help you to choose the right door for your home.
Search Garage Doors
PROS
Roller doors use simple mechanism involving the furling and unfurling of one large pleated sheet of material, with a space saving cylindrical design. Installation is quick and simple.
The design of roller doors with few moving parts makes them low maintenance. Only basic checks are required every few months.
The aesthetic of roller doors makes them versatile for different environments including suburban residential, urban, industrial and commercial.
Roller garage doors come in different materials (timber, steel, GRP or ABS plastic) and colours including woodgrain and offer excellent value for money.
CONS
Damage to roller garage doors is often impossible to repair, since they are made of a single sheet of pleated steel, GRP, plastic or timber, meaning replacement is the only option.
In terms of security, it is easier for vandals and burglars to gain access to the garage through roller doors than sectional doors.
For high end suburban homes in prime residential locations, roller garage doors may not offer the luxury aesthetic you are after.
While roller garage doors and sectional garage doors each come with their own pros and cons, they both constitute a great choice of garage door for your home. The right solution really depends on your requirements in terms of upfront cost, maintenance and repair preferences, home security considerations and, of course, visual appeal.
Here at Wessex Garage Doors, we supply, install and service all types of garage doors, having accumulated a vast amount of indepth industry and technical knowledge over the years that we are more than happy to share.
For more information on garage door options for your home, why not visit our Gallery page or pop into our large Surrey workshop, where the friendly Wessex Garage Doors team will be on hand to show you the working displays and discuss your needs.