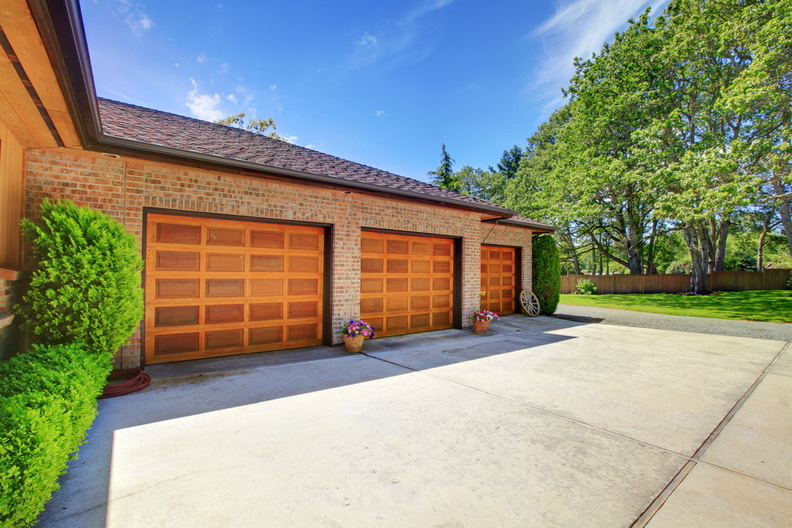 A durable garage door will last decades and if it's properly cared for, it can last a lifetime. A high-quality garage door not only provides greater security, but it also adds to the appearance of your property. It makes sense to take the time to do your research and make sure that the door is installed properly so that it stands the test of time. Here are 5 things you need to consider when you're fitting a new garage door.
Choose the right door for your home
The first step in installing and fitting a new garage door is choosing the correct door that's suitable for your home and is practical. There's a wide variety of garage doors to choose from, which can make selecting the right one a daunting task. Up and over doors are popular as they are affordable and easy to install, as well as coming in a wide range of colours to suit different house styles. These doors also come in both manual and automatic options, for greater convenience.
Roller doors are also a convenient option; they're great for space-saving and perfect if you want an energy-efficient, low maintenance solution. Likewise, sectional doors are elegant and also great if space is at a premium, but they are the most complicated to install.
Assess the space available
It's not just the size of the door itself that you need to think about, it's also how much space you have in front of the garage door as this will impact the type of door you can install. For example, if you have a shorter driveway or you need to park close to the door of the garage, a sectional door is a great choice. An up and over door is well-suited to properties with a driveway leading up to the garage where there's more space to open the door, while a side sliding door is a practical choice if you have a larger garage. Think about the practicalities of opening your garage day to day and how much room you'll have to work with.
Consider the material
Garage doors come in a range of materials, each with their own pros and cons. If you want to add visual appeal to your home, wood can be a great choice, but it is a high maintenance material that requires ongoing care. Steel is an affordable choice, while fibreglass is a durable option but is not ideally suited to extremely cold climates. If you live in an area where moisture is a concern, aluminium is a great choice as it resists corrosion and rust well, while glass reinforced polyester or GRP is durable and resilient.
Find a reputable brand
If you make the right choice when investing in a new garage door, it will last you many years. So, it's important to choose a reliable supplier. Brands such as Garador, Hörmann or SWS are all manufacturers we work with as they are durable and high quality. Make sure that you read reviews from other customers, check that the company is licensed and get professional advice from an experienced provider as to which door best suit your needs.
Hire professionals to install the door
Fitting a new garage door yourself might save you money in the short-term, but you may not wind up with a secure fit. Installing a garage door is a task where taking the DIY approach may not be the best choice, so hire a professional to fit it for you. Someone with experience will know precisely how to align the door, secure it and make sure that the wiring and pulleys are all installed properly. Wessex Garage Doors work with the leading manufacturers in the industry and we have extensive experience in installing garage doors, so we can guarantee the job will be carried out efficiently.
Conclusion
Whether you need to replace a damaged door or you want to upgrade the existing door you have, fitting a new garage door requires research into what your needs are and the right type of door for your home. The team at Wessex Garage Doors are on hand to discuss which garage door is best for your property, so get in touch today and we'll be happy to help.