Cedar Door Wooden Garage Doors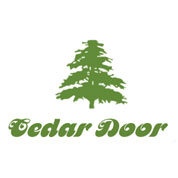 If you're interested in Cedar Door wooden garage doors, Wessex Garage Doors would be delighted to supply them to you. We are one of the most successful garage door installers in the South East and Cedar Door offer some of our most popular models. Please contact us today for more information.
Cedar Door Timber Doors
Cedar Door specialise in elegant timber doors in beautiful period designs. They offer stunning warmth and elegance to your home whether you are interested in panelled or boarded designs. Cedar Door models can be bought with either up-and-over or side-hinged mechanisms. We can even have them installed with a remote-controlled automated mechanism.
No matter what you're looking for, Cedar Door will have the perfect timber door to match the aesthetic of your home.
About Cedar Door
If you are looking for a British business with a great reputation, Cedar Doors could be perfect for you. This is one of the UK's most renowned names in timber garage door manufacturing. The business started more than 25 years ago as a bespoke company operating out of a small unit in Derbyshire.
In the last few years demand has grown significantly for Cedar Door products and the company has relocated to purpose-built premises across a two-acre site. With impressive investment in machinery and a finishing plant, the company is in a positon to offer superb quality garage doors to customers throughout the UK.
Get More Information
For more information on the range of Cedar Door models available or to discuss having a garage door installed at your home, please don't hesitate to get in touch with Wessex Garage Doors today. There are plenty of ways to do it – you can call us on 0800 161 3733 to speak to a member of the team, or you can email info@wessexgaragedoors.co.uk and we will get back to you as soon as we can.
If you would rather visit us in person you can come to our showroom in Surrey where a member of the team will be able to answer any questions you have. No matter whether you're looking for Cedar Door wooden garage doors or something completely different, we can help.