Cedar Door Up and Over Garage Doors
Wessex Garage Doors offers fantastic quality garage doors at excellent prices. With more than 25 years' experience supplying and installing doors at homes across Surrey and the South East, we only work with the best manufacturers, including Cedar Doors.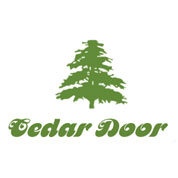 Cedar Door Up and Over Garage Doors
If you're looking for stunning timber up and over garage doors, Cedar Doors is undoubtedly one of the finest manufacturers in the UK. Like Wessex Garage Doors, Cedar places an emphasis on build quality and longevity, so you know that you're getting an exceptional product.
Available in a range of designs including eye catching Tideswell to the classic Wingfield – Cedar Doors has the door to match your needs and requirements. All of the Cedar Doors models that we offer can be installed with either a manual or an automatic mechanism, so you can choose the ideal garage door for you.
About Cedar Door
Cedar Door is one of the UK's most renowned and popular manufacturer of high quality garage door – it is a family business than was founded in Derbyshire in 1987. Specialists in solid cedar timber garage doors, the models that the company creates are all built in the finest quality kiln-dried western red cedar. The wood is sourced from sustainable forests with full FSC chain of custody certification.
The company blends traditional building techniques with innovative and stylish designs to produce beautiful garage doors that are elegant and durable. Wessex Garage Doors are proud to work with them as a manufacturer and we have a fantastic working relationship with the business.
Contact Us
If you would like more information about what Wessex Garage Doors can offer you or you're interested in talking to us about having a Cedar garage door installed at your property, please contact us today. Either call us on 0800 161 3733 where you can chat it through with an experienced member of our team or email info@wessexgaragedoors.co.uk and we will get back to you as soon as we can. You could also choose to visit our showroom in Surrey if you would like to speak to us in person and take a look at some of the models we offer.