Novoferm Automated Garage Doors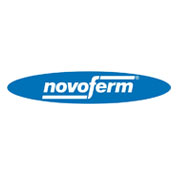 If you're based in the South East and are interested in having Novoferm automated garage doors installed in your home, Wessex Garage Doors are here to help you.
We are a team with years of expertise and knowledge in supplying and installing high quality garage doors to homes across Surrey, Sussex, Kent and beyond.
Novoferm are one of the brands that we most often work with and over the years we have developed an excellent working relationship. Please feel free to contact us if you have specific questions you would like answers, or read on for more details about Novoferm automated doors.
Why choose Novoferm?
Novoferm specialises in up-and-over automated garage doors, and depending on what suits you best you can choose either canopy or retractable gear. These doors are low maintenance, quiet, fast and extremely well built. They also offer exceptionally high levels of security and safety.
Novoferm's models even come with a range of optional extras such as manual entry keypad and remote transmitters that can be positioned in your car.
About Novoferm
Originally founded back in 1955 in Germany, Novoferm started producing steel garage doors in 1962. This makes Novoferm one of the most experienced garage door manufacturers in the world. It wasn't until almost 30 years later that the company went international – but today it sells to countries across the word from Europe to Asia.
With a fantastic reputation for build quality and durability, Novoferm doors are second to none. We are proud to offer the full range of Novoferm products to our customers.
Contact us
With more than 25 years of experience in providing garage doors to homes across the South East, we have a team of experts who would be happy to provide you with advice and guidance. So whether you need insight into a specific model or you want to learn more about Novoferm, we can help.
You can call us on 0800 161 3733 or email directly at info@wessexgaragedoors.co.uk. Our team would be happy to help, whether you're looking for more information on Novoferm automated garage doors or you'd just like more details on the range of different garage doors available.