Novoferm Gatley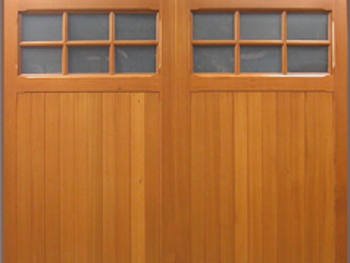 The Novoferm Gatley is a very popular timber up-and-over garage door. A beautiful design with glazed windows at the top and the appearance of side-hinged doors that can provide any home with a real aesthetic boost.
Made in Britain, Novoferm's timber doors are solid and durable, ensuring they are a long-lasting product. We are always proud to recommend them to our clients. The natural beauty of the timber is undoubtedly a status symbol for the front of any home and it can do a lot to enhance the kerb appeal of your property.
If you would like to learn more about Novoferm doors please get in contact with our team of experts today.
A perfect choice for your home
Timber doors are most commonly associated with traditional properties due to their classic aesthetic, however, the Gatley looks stunning on a range of different property styles.
The Gatley is available fully factory finished in nine different colours ranging from light oak and teak to rosewood and ebony. Darker colours are not recommend on south facing properties that get a lot of direct sunlight, as the wood can store up a lot of excess heat which can cause them to dry out and reduce the lifespan of the door. If you are not sure about whether a particular design is right for your home, our team would be happy to talk through the range of options with you.
Why choose Novoferm Gatley?
Stunning appearance in a variety of colours
Available in a range of solid wood infills
Multiple spring assembly means excellent reliability and ease of use
Colourless base coat applied to ensure long lifespan
Can be easily automated
Contact Us
Whether you are interested in having a Novoferm Gatley door installed at your home as soon as possible, or you would just like to learn more about what Wessex Garage Doors can do for you, our team would be delighted to hear from you. We can provide you with the answers to any questions you have and offer advice on all aspects of garage doors.
You can call us directly on 0800 161 3733 where an experienced member of staff will be on hand to take your call. Alternatively, email us at info@wessexgaragedoors.co.uk and we will get back to you promptly.