AlluGuard Roller Garage Doors
Wessex Garage Doors is a supplier of high quality models including AlluGuard roller garage doors. Our business is based in Surrey and we supply doors to the South East, holding an excellent local reputation for professional service and excellent prices, we'll help you find the perfect garage door. For more information don't hesitate to contact us or read on for additional details about the AlluGuard roller products.
AlluGuard Garage Doors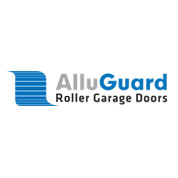 AlluGuard doors have been engineered to offer the perfect roller garage door for homes across the UK. Providing fantastic ease of use, intelligent safety features and industry-leading security as standard, it's easy to see why these doors have become so popular in the British market. Making use of British technology, they have a vertical operation, allowing you to park your car right up to the door.
Additionally these doors are available in a large variety of styles and designs, meaning that they blend seamlessly with the aesthetic of almost any property. With a range of metallic and wood-effect finishes, you can choose a garage door that looks perfect with your home.
More about AlluGuard
Based at premises in Rotherham, Yorkshire, AlluGuard is a British-owned business that specialises in the manufacturing of roller garage doors. Unlike many garage door manufacturers that create a wide range of different garage doors, AlluGuard specialise only in the production of roller doors. This means that if you purchase AlluGuard doors you know that you're getting a product from a truly knowledgeable and expert company. We have an excellent working relationship with AlluGuard and are very proud to offer their high quality roller garage doors to our customers.
Contact Us
Need more information? At Wessex Garage Doors we pride ourselves on our industry knowledge and experience, so don't hesitate to get in touch so that we can help you out. You can call our team directly on 0800 161 3733 to chat through the details with a member of staff. Alternatively you can email info@wessexgaragedoors.co.uk and we will get back to you as soon as possible.
Whether you need more details on AlluGuard roller garage doors or you'd just like to talk to Wessex Garage Doors about the different options and manufacturers we have available, our team will always be delighted to answer any of your questions.