SeceuroGlide Sectional Garage Doors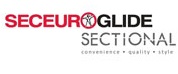 Supplying and installing premium garage doors at homes across the South East, Wessex Garage Doors has developed a reputation for professionalism and a very high standard of work. We have more than 25 years' experience working with all kinds of garage doors and supply from a range of excellent manufacturers – one of which is SeceuroGlide. Get in contact with us today or come and visit our showroom in Surrey for my more details on the garage doors we can offer you. Alternatively, read on for more details on SeceuroGlide sectional doors.
SeceuroGlide Sectional Doors
If you're thinking of buying a sectional garage door, the SeceuroGlide undoubtedly offers you a truly superb selection. With an emphasis on excellent insulation and security features including a unique locking system, SeceuroGlide doors could be perfect for you home. Available in a large variety of styles, designs and colours, you can choose a door that is ideally suited to your home.
These doors have a vertical operation, which means there is no kick back in the door and you can park directly next to the door without any risk of it hitting your car. These high quality doors add value to your property and are available both with a manual operation and as automatic and remote controlled.
About SeceuroGlide
Launched in 1997, the SeceuroGlide range has risen to become one of the most popular brand names in garage doors. Thanks to constant innovation and refinements it has remained a market leader. The doors are produced by SWS, one of the biggest names in garage doors, which means you can count on excellent build quality and durability. Wessex Garage Doors has worked with SeceuroGlide products for many years and we have developed a fantastic relationship with the brand – we are proud to offer their products to our customers.
Contact us
Our team has many years of experience working with SeceuroGlide doors, so if you have any questions we would be more than happy to help. No matter where you are in the process – simply gathering information or ready to order – our friendly and professional team will provide advice and guidance. Call us today on 0800 171 3733 or email us at info@wessexgaragedoors.co.uk and we will get back to you as soon as we can.