Garage doors are generally not cool. They can be automatic, innovative, energy efficient and robust, but very rarely cool!
However, that doesn't mean to say that some aren't. Whether they are being used to display vintage cars or utilise an intriguing space – there are some very cool garage doors out there, hidden away in the most usual of places.
Mirabel Street Residence
This unique combination of a decorative, period façade and a contemporary use of space has allowed the building to retain its wonderful character, but still be ideal for modern living. Levy Art & Architecture are renowned for taking on innovative projects and using them to challenge the way we live. They created a huge, motorised, side hinged garage door in the bay window to allow easy access, without ruining the aesthetics of the home, or the street – so much so that you wouldn't think twice when admiring the beautifully renovated façade.
The Glass Tor
Rundum Meir have created exterior door systems for a huge variety of buildings, from period pieces and listed buildings to award winning new builds and innovative architectural concepts. And this exceptional Glass Tor is certainly no exception! The door is comprised of a single piece of glass, and similar to a retractable up and over garage door, it opens vertically and simply slides away. The elegant mechanism and unusual design make this the perfect garage door for merging seamlessly into the façade of the building, ideal for grand, commercial designs.
A Garage Studio in Herdern
These truly unique garage showrooms were designed and constructed in the Herdern Mountains in Switzerland by Peter Kunz Architects. The client, obviously enthusiastic about his car collection, asked for a spacious garage where he could work on and house his cars, but wanted this functionality combined with a display from which he could admire his prized collection.  These five concrete and glass cubes protruding from the mountainside were the result – the first four being display garages with the fifth an innovative sliding garage door entrance leading to others.
Industrial Style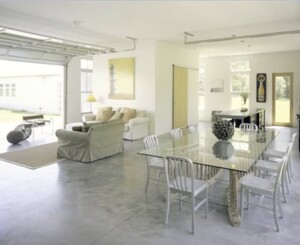 This garage door isn't cool because it is exciting or innovative, but rather because of the wonderfully simple use of space and the usual application created by Birdseye Designs. Birdseye are renowned for striking a balance between structure and nature so it's no surprise that they chose to use a sectional garage door as a patio door to maintain the industrial aesthetic of the interior space. It works by complementing the polished concrete floors with a door, that when closed is a cool structural feature, and when open allows the outdoors to flood inside.
Caradak Elevator System
It's not difficult to see why we've chosen this exclusive, James Bond-esque garage as one of our top five coolest – even if it is not exactly a garage door! The Cardak Elevator System has been designed as a luxury automatic garage entrance to complement the rich lifestyles, homes and cars of the wealthy. The garage itself is sunk into the ground and a complex hydraulic system is installed to raise and lower the cars. But, as with this example – there's no concern that it could affect the aesthetic of a period home as once the cars are lowered the roof will be finished to match the surrounds, completely hiding the garage from view.