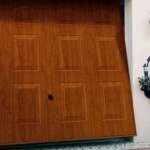 As we go into a new year, many people will be looking to complete those old DIY and home improvement tasks that have been hanging around. And of course there's the January sales, so you can finally replace those broken appliances and broken pieces of furniture without it costing a small fortune! So what's on your New Year's job list? If it's replace that old, broken garage door – follow our simple advice below to make sure you get the most for your money!
Don't Leave It Until The Last Minute
First off – don't wait until your garage door has completely broken down before you look for a replacement, otherwise you'll find yourself rushing to replace it so you can re-secure your garage! If this happens you might end up with a garage door that doesn't completely suit your requirements and it will be a waste of money.
Next, make sure you know what's out there so you can make an informed decision about which will be best for your garage. So, don't just replace your garage door with a single panelled up and over door because that's what you had before. Many people are turning to the space saving features of a sectional or roller garage doors because they allow you more storage space inside and you can park right up to them without getting in the way. And with so many attractive styles, designs and finishes available at low cost prices, you don't have to settle for a plain old steel or timber door, you can afford to invest in one that complements your home a little better.
So, Which Material Is Best For You?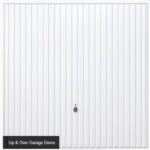 Of course the old steel up and over garage doors are still available and very cost effective, and you can still get timber side hinged garage doors, but the quality and function of them has enhanced over the years. So whereas a timber door may have been the cheap choice before, you can now invest in beautifully made, naturally robust and durable wooden garage door – and with all the automatic solutions available, you needn't worry they'll be too heavy either!
And then there are GRP garage doors which are renowned for their strength, stability and resilience. They are available in a huge range of colours and finishes, including wood-effect finish if that's what would suit your home. And they are durable enough to withstand rust, splitting, rot and harsh weather conditions!
There are also insulating properties to consider. Timber is naturally able to withstand the weather and keep in the warmth, but there's a whole host of extras you can choose to enhance this such as draught and weather seals. But with new insulated steel and GRP, you can be sure that whatever material you choose, there's an insulating solution that will help to lower your carbon footprint and increase your efficiency.
The Safest Option!
Never just settle for a basic model, or the cheapest, because you could be missing out on a whole host of accessories and features that would benefit you and your family- the most important being the safety features! So look out for:
Pinch resistant panels that will stop you trapping your fingers between the panels when opening or closing the door manually.
Auto stop and reverse so if the door encounters an obstruction it will immediately stop and return to the open position.
Infrared Obstruction Sensors or 'electric eyes' installed either side of the doorway emit a continuous infrared beam that will stop the door moving if beam is broken.
So if you're looking for a new garage door in the January sales, don't just get the cheapest thinking it's a bargain. Check out what it has to offer and make sure you have everything you want!
Speak to the experts at Wessex Garage Doors if you're in doubt and they'll help you find the perfect garage door for your budget, your lifestyle and your home!