Running an efficient household is the main priority for most homeowners, and the garage is no exception. While there are always new gadgets available to make your home a more convenient place to live, in some cases, the simplest solutions work best. This article will serve to explain some of the top garage hacks based on cost and convenience, with the aim of improving your overall garage experience.
Avoid banging your door against the wall

In the rush to set off for work or drop the kids at school, it can be easy to misjudge the distance between your car door and the garage wall. A cheap and easy way of preventing your door from banging against the wall when it's opened is to glue, nail or bolt some foam padding or half a swimming noodle to the exact height that your door meets the wall. That way, your car door will remain intact no matter how hard it's flung open.
Use a tennis ball suspended from the ceiling as a parking guide
Whether you are a first time driver finding your bearings or are simply in a hurry, you may have trouble gauging the distance between your vehicle and the garage door when parking. If this sounds familiar, the most simple, safe solution is to hang a tennis ball at the back of the garage roof to act as a parking guide.
To fit this tennis ball, you must begin by having your vehicle parked in the correct position. Then, use a ladder and a piece of string to measure the distance between the roof and the middle of your windscreen, making sure you add an extra foot to tie a knot, and then cut. Using two hooks, you can then screw one into the tennis ball and the other into the roof directly above the middle of your windscreen, tying the piece of string to each hook. This should allow the tennis ball to sit perfectly in the middle of your windscreen, so you can use it as a guide when parking to avoid hitting into the wall.
Easy lighting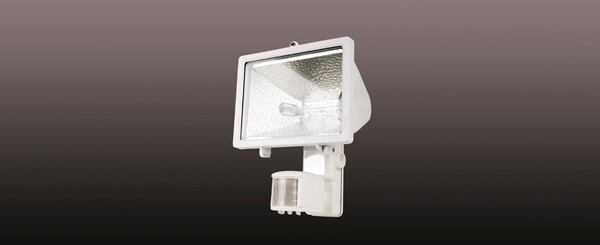 Sometimes, you may find yourself scrambling for the light switch inside your garage, particularly during these darker months. To improve accessibility to the switch, try installing a security light with a motion detector inside your garage, so you don't have to fumble around to turn the light on when you enter the room.
Timer plug
In preparation for the colder winter weather, you could use a timer plug to switch on a portable heater when you are setting off for work in the morning or returning home in the evening. Not only will this improve comfort levels inside your garage, using a timer is a far more energy efficient option than leaving the heater switched on all day/night.
Electric garage door
As covered in one of our previous articles, the design of automated garage doors means that you do not have to worry about door handles being forced open, heavy lifting or manual locking. Not only will an electric garage door opener significantly improve the security of your garage and its contents, it also offers a convenient, more efficient way for you to access your garage.
---
Here at Wessex Garage Doors, we offer an extensive range of garage door designs to help improve the efficiency and accessibility of your garage; we even offer an automation service so you can simply push a button and drive straight in. Simply contact our expert team today to find out more.