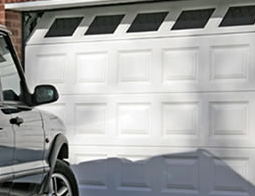 Sectional garage doors are the perfect solution for many homes and commercial premises thanks to their immense versatility, which allows them to be adapted to fit almost any size of garage opening, and any shape – from the standard rectangular, to arched or even chamfered.
They are also easily automated and the door itself is made up of a series of hinged horizontal panels, which are connected to the door track so when operated it simple folds or rolls vertically into the roof space of the garage for complete convenience and ease of use.
But before you invest in a sectional garage door, have a read through our guide below to make sure it suits your home and lifestyle.
Compact Operation
Like all overhead doors, the sectional door moves up and into the roof space to allow maximum door width. But unlike many others that have hinges and push up and tilt out, the vertical movement of the door means it will never encroach beyond the doorway, so it offers very compact operation and unrestricted access.
Security
Thanks to the closed structure of a sectional garage door, they provide an exceptional level of security, making them extremely difficult to corrupt. They can also be easily fitted with additional locking features and security devices, to enhance your security level even further.
Energy saving
Sectional garage doors are fitted with rubber seals around the perimeter of the door to exclude draughts and keep the elements out. This is especially important if your garage is directly connected to your home, as doors without seals can be a huge cause of heat loss.
Automation
Whether you already have a manual sectional door fitted, or it's an option you're considering, you can choose to have the door automated at installation, or it can be easily upgraded to automatic operation as an afterthought. You can also have an electric remote control opener, so you never have to leave the car to lift or lower the door.
Variety of Options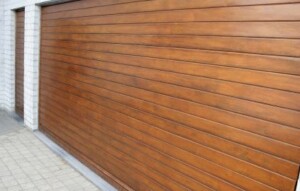 Sectional garage doors are commonly constructed from steel, fibreglass and timber, offering a huge range of choice when it comes to stylistic considerations and designs that complement your home. You can also choose to have insulated panels which can save you money in heating bills, or more affordable non-insulated panels, if heat loss isn't a concern.
Installation
If you choose a dedicated garage door professional to install your garage door, it will be efficiently installed to a high standard that ensures safety and smooth function. But as the various components of the mechanism can be quite tricky to install, even a professional may find it takes a little longer to complete than some other styles, which could cause disruption to your household.
Durability & Maintenance
Unlike lift up garage doors, sectional garage doors have many moving parts so the likelihood of a fault increases. This means they must be kept clear of debris, well lubricated and properly maintained to avoid repairs and keep them functioning well.
Expense
As a result of the increased maintenance that is required, and the cost of an automated mechanism, a sectional garage door can be a more expensive choice. But the return, if properly looked after, makes the increased cost worth it.
Ease of Use
The easily installed automatic operation and the variety of options available that include lightweight materials, enhanced safety and security features and the compact operation, means this door is easily operated at the touch of a button. Ideal for the elderly or those less able, the sectional nature of the door makes operation simple and straightforward.
Wessex Garage Doors
The team at Wessex Garage Doors have years of experience surveying garages and recommending the perfect garage door for your budget and lifestyle. So if you think a sectional garage door might be for you – simply give us a call today for more information and we'll find and install the perfect solution for you.