While many choose to upgrade the decor inside their home by painting the rooms a different colour or investing in a painting, a design craze which has been emerging worldwide in recent years has been garage door artwork. From the weird and wonderful to the utterly jaw-dropping, the intricate and lifelike look of garage door art has captured the interest of many.
Available as painted murals or printed stickers, garage door art is a brilliant, cost-effective way of expressing creativity and renovating the exterior of a property.  To round up the year, this article will feature some of the best (and worst) designs that garage door artwork has to offer.
Santa Claus is coming to town!
As you decorate your home in time for Christmas, why not channel some of your creative efforts to the exterior of your home, too? This time, we don't mean lights on your roof or a reindeer model in your front garden, but festive imagery to transform your garage door.
It's worth noting that themed designs such as this are available in sticker form, so you can easily switch your choice to avoid having Santa outside your home in August!
Make the neighbours jealous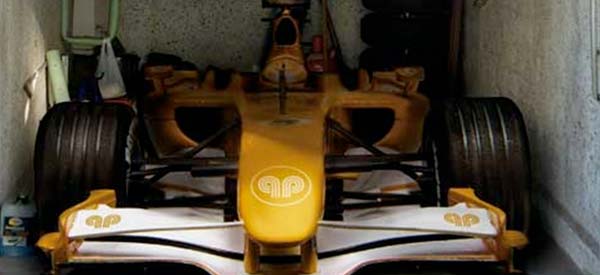 For many of us, owning our own F1 car is just a pipeline dream…but your neighbours don't need to know that! Watch, as passersby gaze in awe at the rare motor your garage is housing, and keep an eye on their faces when they eventually realise it's an illusion!
Burglars, beware!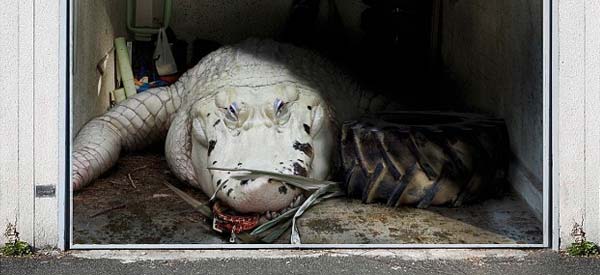 It may not be the most conventional way of deterring burglars, but we're pretty sure this 3D artwork will make a few potential intruders think twice about breaking and entering!
Bring the beach back home!
Forget the fake sand and artificial palm trees, transform your garage into a tropical retreat using a garage door sticker! These weather and fire-resistant prints are easy to apply, and guarantee sunny weather all year round!
Garage door artwork gone wrong…
When it comes to garage door artwork, the way it is presented must be realistic, otherwise the design falls flat. The above photo on the left shows how a promising idea for garage door imagery can fail once it has been applied, as the scale and execution of the design is completely wrong.  
The image above to the right uses the same concept but is far more realistic, ensuring it has the desired effect of stunning and impressing passersby.
---
If you are searching for high quality, well made garage doors for competitive prices, look no further than Wessex Garage Doors. From roller and sectional to wooden and up and over, we offer a range of different styles, as well as thorough repairs and an automation service, too – simply get in touch with our expert team today to find out more.