Whether you're thinking about selling your home, or you've noticed your neighbours are making improvements to their home that are leaving you behind, you might want to make some outdoor changes that will have a big impact on your curb appeal.
Curb appeal will make your home more appealing to your visitors, whether you are selling your home or not. You want your guests to feel like your home is a welcoming place and one or two simple upgrades and additions can make a huge impact.
Driveway
A slab of concrete is not the most appealing way to great your guests. Even if the cement is newly poured, it's boring and not visually stunning. You could line the driveway with various materials. A small wall is an easy way to separate the driveway from the lawn. It stops cars from accidentally ruining the edge of the grass too. And you can always line it with pot plants to create a pleasant arrival and beautify your driveway.
Garage Doors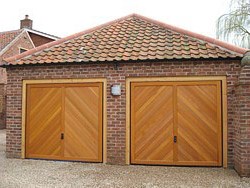 The garage doors are the biggest focal point that the visitors see besides the home itself. It's the next thing to focus on after the driveway leads them onto the property. The days of drab, purely functional garage doors are in the past. Old garage doors can be replaced with strong GRP garage doors, traditionally styled doors made of wood or robust steel garage doors. They come in various vibrant colours that can match the home or a contrasting colour to create a stunning flash of visual interest.
Pathway
The path to the home is the next feature that guests see. This can be edged in flowers too. Flowers are an easy way to add colour and visual texture to the home. They brighten up the space and give guests something to admire on the way to the front door. At night, solar lights can give the walkway a dash of flair. They store up a charge during the day and can last up to six hours after night falls.
Front Door
The front door requires the most care, and it's where the most dramatic changes can be made. The front door is the point where the guests wait to be let into the home and this is where it is most important that they feel welcomed. Don't just throw a welcome mat at the bottom of the door. This is a spot that needs creativity.
A beautiful new front door in a contrasting colour can be purchased to match the new garage doors. If you don't want to make such dramatic changes as a new front door, consider changing the hardware. The small details matter. New light fixtures, decorative house numbers and new door handles are easy ways to add small, appealing touches.
Another way to add interest near the front door is to add hanging baskets or window boxes to brighten the entrance to your home.